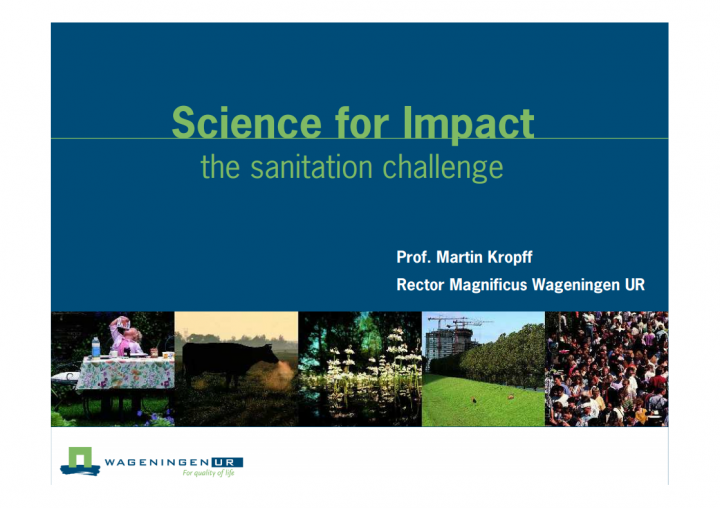 Published in: 2008
Author:
Various Authors
Uploaded by:
SuSanA Admin
Partner profile:
common upload
---
1161 Views
365 Downloads
The Sanitation Challenge Conference was deliberately aimed to create a dialogue between civil, process, agricultural and environmental engineers; urban planners, sociologists, economists, and political scientists who are involved in international sanitation research and implementation. It took place in Wageningen, the Netherlands from 19. to 21. May 2008.

Furthermore, this conference tried to bridge the gap between sanitation research and demonstration in the 'North' and in the 'South'. Among others, the conference wanted to be a platform to present the findings of the 'Decentralized Sanitation and Reuse' (DESAR) project performed in the Netherlands from 2001-2007, financed by EET and STOWA and those of a sanitation and urban infrastructure research project in East Africa (PROVIDE).
Content - Summary
Available for download below:

Plenary opening session - Kropff

Plenary opening session - Zeeman

Plenary session - Lettinga

Plenary session - Otterpohl

Plenary closing session - Spaargaren en Van Lier

Transitions towards developing sustainable urban environmental infrastructures in East Africa

Multidimensional gap analysis to diagnose innovation adoption in the sanitation sector of LDCs

Evaluating various sanitation system alternatives for urban areas by multi criteria analysis-case study of Accra, Ghana

A tool to support the planning of closed-loop environmental sanitation systems

Implementation of new sanitation concepts in a city scale - finding long-term strategies by mathematical optimisation

A flowstream approach for sustainable sanitation systems

Design of a district water and wastewater system under the concepts of DESAR and water metabolism

Modern sanitation for the developed world: an example for new areas

Interactions of urban form and source-separating sanitation technologies

Social marketing for sanitation improvement in Kampala, Uganda

Financing sanitation in sub-saharan Africa … is a local challenge

Sanitation provision in urban centres of Uganda

Reconsidering urban sewer and treatment facilities in east Africa as interplay of Material Flows, Sanitary Networks and Space Demands

Decentralised sanitation and reuse - assessment of the viability of decentralised sanitation and waste water reuse in existing cities

A learning and decision methodology for drainage and sanitation improvement in unplanned areas in developing cities

Faecal sludge management in Accra, Ghana: problems facing urban provision

Three Pillars of Sustainability: a framework for provision of water and sanitation in rural Africa

Perceptions of sustainability: planning sanitation projects in West Africa

Role of farmers in improving the sustainability of sanitation systems

Sense and sanitation

Wastewater Governance: A Challenge for Environmental Engineers

User acceptance of vacuum toilets and grey water systems in The Netherlands, Norway and Germany

The sustainable transformation of sanitary systems: an end-user perspective

Perception of water, sanitation and health – a case study from the Mekong Delta, Vietnam

Separated grey- and blackwater treatment by the Komplett water recycling system. A possibility to close domestic water cycle

Sanitation now - what is good practice and what is poor practice?

Characteristics of source-separated household wastewater flows – a statistical assessment

Waste water as a resource for sustainable sanitation in West Africa : an example of integrated treatment

Vacuum sewerage and grey water treatment: experience of 8 years of operation

Decentralized waste water reclamation systems in Beijing: adoption and performance under field conditions

Ecosan demonstration project: GTZ headquarter, Germany

Sanitation concepts and knowledge gaps, Key-note presentation

Nutrient recovery from black water from a Dutch perspective

Source Separation, Treatment and composting of human excreta for soil enrichment, pesticides, economic and social empowerment: Experience and practice

The challenge to treat concentrated black water

Nitrification of faecal sludge liquor using pilot scale intermittent sand filters in Dakar, Senegal

Peepoo bag - self-sanitising, single use, biodegradable toilet

Biological treatment of grey water: comparison of three systems

Anaerobic-aerobic treatment of grey water; continuous and batch operations

Decentralised treatment of high strength sewage in UASB and Anaerobic-Hybrid septic tanks

Challenging conventional sanitation options for health care units

Biodegradability of pharmaceuticals in biological systems treating source separated wastewater streams

Fate of Pathogens in tomato plants and soil irrigated with secondary treated wastewater Maha

Control of Enteric Bacteria in Source-Separated Human Urine

Vitens – Evides International – sustainable water services Veenstra

DeSaR-project

Safi Sana: public watsan service blocks sanitation is (should be) business - sitting down while money grows

Sanitation in developing countries: a bussiness opportunity?

Sustainability of sanitation programmes in Uganda

Social and spatial challenges facing sanitation
Bibliographic information
Various Authors (2008). Sanitation Challenge Conference in Wageningen, Netherlands - Conference materials.
Filter tags
English Presentations Urban (entire city)
Download