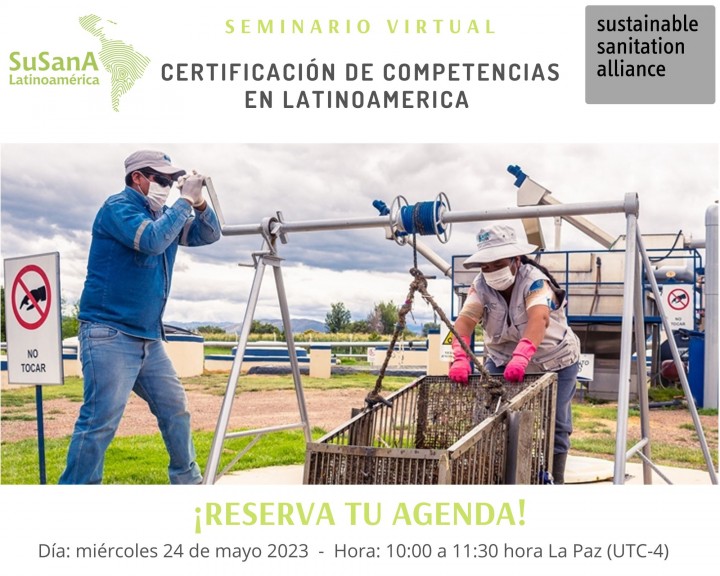 Further Description / Program
Queridos colegas:

El equipo de SuSanA Latinoamérica los invita cordialmente al seminario virtual: "Experiencias de procesos de certificación de competencias en Latinoamérica"

La certificación de competencias laborales en el sector de agua y saneamiento, que incluye residuos sólidos, es un esfuerzo interinstitucional entre gobiernos, ministerios de gobierno y otras instituciones para reconocer las capacidades de trabajadores que han demostrado en la práctica que han alcanzado el grado de expertos, en el ejercicio de una ocupación. La mayoría de trabajadores logra su formación en procesos empíricos o en la escuela de la vida, ante muchas veces la inexistencia de oferta formativa y continúan su labor a través de los años sin un reconocimiento de sus capacidades.

En este seminario tendrás la oportunidad de conocer las experiencias de diferentes países en Latinoamérica y podremos identificar caminos y procesos exitosos, así como fallidos.

Esperamos tu participación!

***ENGLISH***:

Dear all:

The SuSanA Latin America team cordially invites you to the webinar in Spanish "Experiences of competency certification processes in Latin America"

The certification of labor competencies in the water and sanitation sector, which includes solid waste, is an inter-institutional effort between governments, government ministries and other institutions to recognize the capabilities of workers who have demonstrated in practice that they have reached the level of expert , in the exercise of an occupation. The majority of workers achieve their training in empirical processes or in the school of life, often in the absence of training offer and continue their work over the years without recognition of their capabilities.

In this seminar you will have the opportunity to learn about the experiences of different countries in Latin America and we will be able to identify successful paths and processes, as well as failed ones.

We look forward to your participation!
Contact information
Lourdes Valenzuela
lvalenzuela@aguatuya.org
Links to external websites
Registrarte a la webinar / Register here
Recording of the online webinar

Download further information