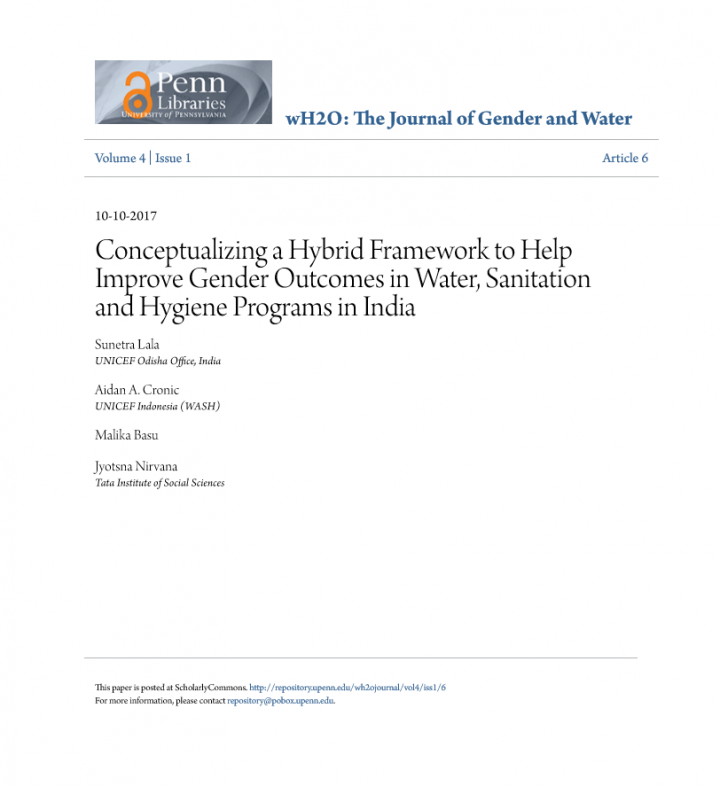 Published in: 2017
Pages: 12
Publisher:
wH2O: The Journal of Gender and Water
Author:
Lala, S., Cronic, A.A., Basu, M., Nirvana, J.
Uploaded by:
SuSanA Admin (susanaadmin)
---
998 Views
15 Downloads
---
Location of library entry
A gender-sensitive approach to ensure equity in WASH programs can achieve positive and sustainable outcomes, including participatory decisionmaking and empowerment of women. Gender analysis frameworks have a long history in development practice to guide strengthened gender outcomes, and opportunities exist to learn from such frameworks to support implementation of WASH programs in developing countries, including India. This paper reviews seven well-established gender analysis frameworks from the Indian WASH context vis-à-vis six key categories, viewed as critical components to gender outcomes and vital to the sustained success of WASH programs, to develop an improved compilation, referred to as the hybrid framework.
Bibliographic information
Lala, S., Cronic, A.A., Basu, M., Nirvana, J. (2017). Conceptualizing a Hybrid Framework to Help Improve Gender Outcomes in Water, Sanitation and Hygiene Programs in India. wH2O: The Journal of Gender and Water
Filter tags
Asia & Pacific English
Download