Biogas is a main stakeholder among the renewables. Because biogas is not bound to a season, to weather or a time of day. Biogas can supply energy whenever it is needed. And at an impressive scale: 12 Gigawatt reliable power can be supplied by over 8,000 biogas plants in this country. This corresponds to about one fifth of the
German average load.

The Biogas Convention will be hosted by the German Biogas Association. With more than 4,700 members, the is the largest German and European Body representing the interests of the biogas sector. It represents manufacturers of biogas plants and components, planners and agricultural and industrial Biogas plant owners throughout Germany. The object of the association's work is to enlarge the production and use of biogas for the nationwide generation of electricity, heat and fuel production, to strengthen the industrial location Germany and to develop an effective climate protection.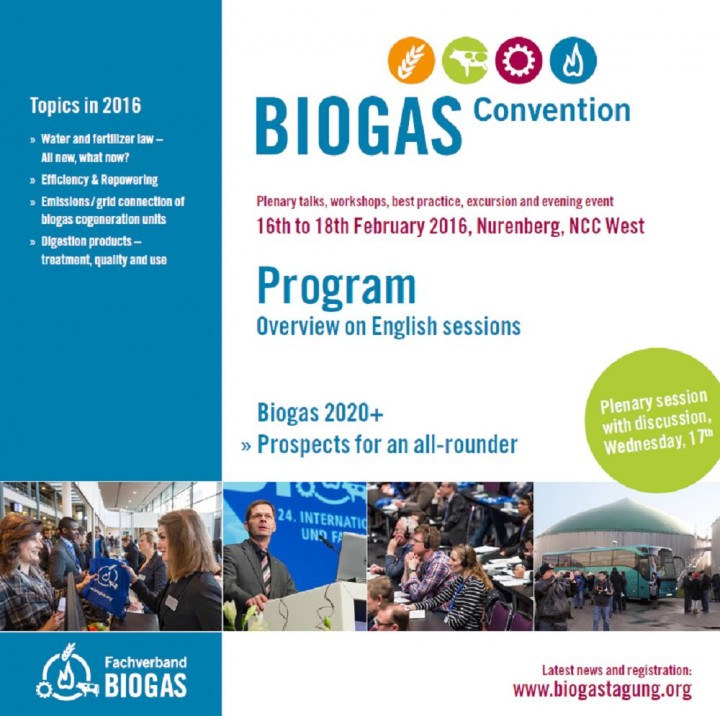 Further Description / Program
TUESDAY, 16/02/2016

PANEL 2
2.1 Water and Fertilizer Law in Germany – All new, what now? (running translation into English)

- AwSV – Current state (Martin Böhme, Federal Ministry for the Environment, Nature Conservation, Building and Nuclear Safety)
- New requirements of the Fertilizer Regulation on the spreading of digestion products (Hubert Honecker, Federal Ministry of Food and Agriculture)
- New water and fertilizer law – consequences for the biogas sector (Dr. Gerd Reinhold, Thüringer Landesanstalt für Landwirtschaft)

2.2 Digestion products - treatment, quality and use (running translation into English)

- Microbiology, multiply resistant microorganisms and pharmaceutical residues in digestion substrates and digestion products of biogas plants (Prof. Dr. med. vet. Gerhard Breves, Hannover University of Veterinary Medicine, Physiological Institute)
- Humus development in soil by the application of liquid products from Digestion (Prof. Dr. Kurt Jürgen Hülsbergen, Weihenstephan Science Center for Nutrition, Land Use and Environment)
- Fertilizers of the future – practical examples and outlook on the Treatment of digestion products (Thomas Karle, agro Energie Hohenlohe GmbH + Co. KG)

Panel end General meeting of members

Evening event



WEDNESDAY, 17/02/2016

PLEANERY MEETING
Biogas 2020+ » Prospects for the all-rounder"

PENAL 3
3.1 Effiziency & Repowering (running translation into English)

- Biological efficiency improvement (Dr. Hans Oechsner, Hohenheim University, Landesanstalt für Agrartechnik und Bioenergie)
- Technical efficiency improvement (Dr. Jan Liebetrau, Deutsches Biomasseforschungszentrum gemeinnützige GmbH DBFZ)
- Economic efficiency improvement (Dipl.-Ing. agr. Ulrich Keymer, Bayerische Landesanstalt für Landwirtschaft, Institut für Betriebswirtschaft und Agrarstruktur)

3.2 Emissions / grid connection of biogas cogeneration Units (running translation into English)
- Emissions of biogas cogeneration units: Statutory requirements and their implementation (Simon Tappen (M.Sc.) Bayerische Landesanstalt für Landwirtschaft, Biogastechnologie und Reststoffmanagement)
- Practical emission measurement at biogas cogeneration Units (Dirk Goeman, Emission Partner GbR)
- System services of biogas cogeneration units: Experience of a grid operator with the implementation of the Marine Strategy Framework Directive and the SysStabV (Walter Albrecht, LEW Verteilnetz)


THURSDAY, 18/02/2016
EXCURSION (with running translation into English)

Traditionally, the day after the BIOGAS Convention excursions to selected biogas plants in the area around Nürnberg will be organized. Please note that you need to register separately if you want to take part in the excursions because the capacity of the coaches is limited. You cannot take part driving you own car. It is proposed to visit two or three biogas plants
.
Links to external websites
Download further information