[Content is retrieved from UN Environment website]

Water is not only crucial for all forms of life and the environment, and but it is also a limiting factor for development. As only 3% of all the water on our planet is freshwater, and just 1% is available for drinking purposes, it is paramount to maximize the use of wastewater and low-quality waters, particularly in water scarcity prone areas. Wastewater is a renewable resource within the hydrological cycle: once it is used, it can be reused again. Reusing wastewater is not only economically, but also ecologically necessary. If properly managed, wastewater can help address other challenges including water scarcity, irrigation, biogas production and the creation of green jobs. More than ever, it is important to shift the paradigm and change the way wastewater is seen, from being considered waste, to a valuable resource. For example, recycling greywater, namely the used water from our kitchens, bathroom sinks, bathtub, showers, and washing machines, have multiple benefits, including for irrigation, groundwater recharge, and for reducing water abstraction.

This webinar will discuss and highlight the need for reusing wastewater. The speakers will elaborate on the issue of wastewater reuse and will provide their expertise and examples on this topic while focusing on greywater. The webinar will also highlight the linkage between reusing wastewater, greywater, and the aspect of financing for sustainable wastewater management.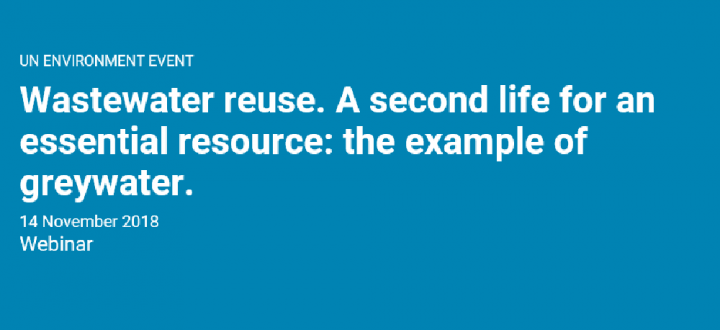 Further Description / Program
Date and time of the webinar: Wednesday, 14 November 2018, 5:00 – 6:00 PM, Nairobi (UTC +3) // 3:00 - 4:00 PM, Berlin (UTC +2)

The webinar is organized by the Global Wastewater Initiative (GW²I), a multi-stakeholder platform bringing together UN agencies, international organizations, governments, scientists, the private sector and non-profit organizations with the goal of information-sharing and cooperation for an effective and comprehensive response to the challenges posed by wastewater management.

Speakers:
1) Shreya Ramachandran – Founder, The Grey Water Project
2) Howard Kahan – Environmental Scientist, United States Environmental Protection Agency (EPA)
3) Salfiso Kitabo – Country Director Ethiopia, Water.org
4) Sasha Koo-Oshima – Director & Senior International Water Advisor at US Environmental Protection Agency

Moderator:
1) Birguy Lamizana, Programme Management Officer, UN Environment
2) Riccardo Zennaro, Associate Programme Officer UN Environment

Please go to link below for registration.
Links to external websites