World Toilet Summit 2018 will lay special focus on the evolution and journey of Swachh Bharat Abhiyan and envisions itself as being a pioneer in motivating the successful completion of the mission as it enters its final year of conclusion. The summit aims to felicitate international stakeholder discussions and policy interventions that focus on bringing behavioural change, maintenance and sustenance of toilet usage, and innovations in WASH, along with solutions for faecal sludge management.

The two-day summit will commence on 19 November 2018 in Mumbai, on the occasion of World Toilet Day. The summit is being officially supported by the government of Maharashtra and will consist of keynote address, panel discussions, as well as awards in different categories from WASH sector. As an increase in toilets leads to a healthier and cleaner environment, the summit will focus on promoting sustainable and viable solutions for the efficient management of toilets.

On the afternoon of 18 November 2018, we are also holding a SuSanA India Chapter meeting on wastewater management back to back to the World Toilet Summit at Taj Land's End, Mumbai.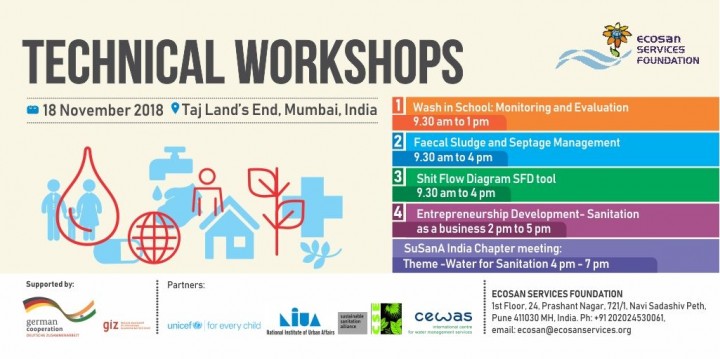 Further Description / Program
Key Agenda

The World Toilet Summit will close the gap between government, corporate and civil society by creating multi-sector partnerships to accelerate collaborations for progress in WASH. The summit will be linked to the Swachh Bharat, Swachh Vidyalaya, and Dettol Banega Swachh India. Through World Toilet Summit in India, we aim to achieve the following key objectives:
1. Beyond the Swachh Bharat Mission: From toilet coverage to toilet usage
2. Sustainability of the open defecation free status in Maharashtra: Toilet maintenance, behaviour change, design and funding innovation
3. Reaching 100% WASH coverage in schools and 100% safely managed sanitation at the household level
4. Alleviating WASH challenges: The role of design and innovation

Theme for 2018

Each year, World Toilet Summit follows a specific theme and this year's theme is "When Nature Calls". Through this theme, the summit strives to advocate the fact that often the solutions to all WASH problems lie around us in nature itself, we just need to seek them out and establish compatibility with the environment. The idea will be further explored via nine sub-themes over the course of the two-day event.
Links to external websites