[Content is retrieved from UN Environment website]

This webinar will explore the topic of innovative financing for sustainable wastewater management from different perspectives. The speakers will elaborate on the costs of ignoring investments in wastewater treatment, technology readiness and the need for assessment in innovative financing, and how innovative financing for sustainable wastewater management can help micro, small and medium enterprises (MSMEs) meet the needs of the poor. The webinar will also highlight best practices and case studies related to the innovative financing of wastewater treatment.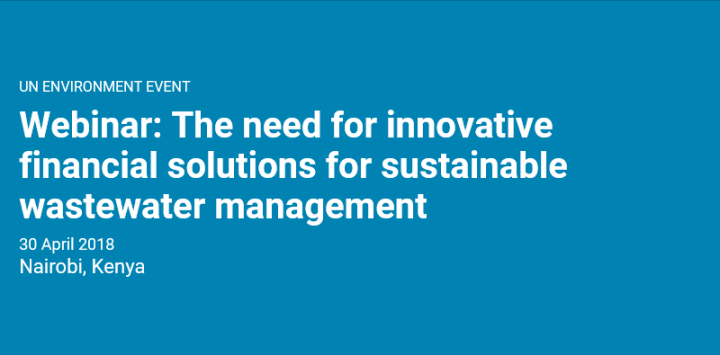 Further Description / Program
Date and time of the webinar: Monday, 30 April, 3:00 – 4:30 PM, Nairobi (UTC +3) // 2:00 - 3:30 PM, Berlin (UTC +2)

The webinar will be hosted by the Global Programme of Action for the Protection of the Marine Environment from Land-Based Activities (GPA) of UN Environment, an intergovernmental cooperation mechanism that aims to prevent the degradation of the marine environment from land-based activities. Initially established to address nine source categories of marine pollution - sewage, persistent organic pollutants, radioactive substances, heavy metals, oils, nutrients, sediment mobilization, litter and physical alteration and destruction of habitat - the Programme has, since 2012, focused on marine litter, nutrient pollution, and wastewater. Together with its partners and through the Global Wastewater Initiative (GW²I), the Programme seeks to enhance the understanding of wastewater as a resource and works on various issues related to sustainable wastewater management including policy guidelines, technology, knowledge generation, capacity building and awareness-raising.

Speakers:
1) Manzoor Qadir – Assistant Director, United Nations Institute for Water, Environment, and Health (UNU-INWEH)
2) Veerle Wandeweerd – Policy Director, Global Science Technology, and Innovation Conference Series
3) Andrew Foote – CEO and Co-Founder, Sanivation
4) Sasha Koo-Oshima – Director & Senior International Water Advisor at US Environmental Protection Agency

Moderator:
Birguy Lamizana, Programme Management Officer, UN Environment

Please go to link below for registration.
Links to external websites