The 3rd annual Aid & Development Asia Summit will take place on 14-15 June 2017 in Nay Pyi Taw, the capital city of Myanmar (Burma).

Gathering 250+ humanitarian and development professionals, The Aid & Development Asia Summit will bring together regional and global expertise to discuss innovations and partnerships for aid and development programmes in Asia, with a particular focus on Myanmar.

The Summit will offer an unparalleled opportunity for knowledge exchange, cross-sector engagement and collaboration between UN, government agencies, local and international NGOs, Red Cross, development banks, investors, associations, media and the private sector.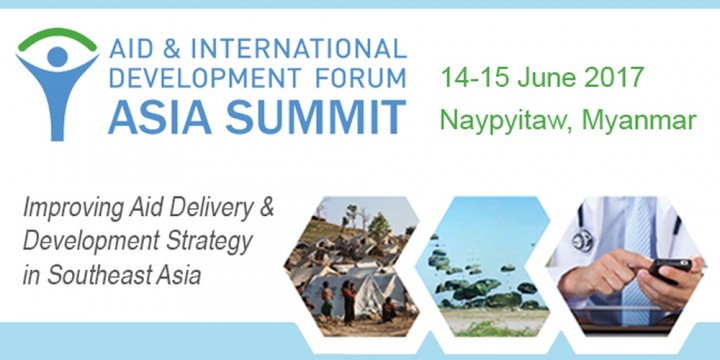 Further Description / Program
Be part of this year's Aid & Development Asia Summit and:

• Compare your approaches with peers and build long lasting partnerships and alliances with UN and government agencies, NGOs, donors, and the private sector
• Hear latest policy and project updates and influence the debate on improving humanitarian aid operations and infrastructure resilience – especially in Myanmar
• Exchange best practice and discover innovations in health & WASH, agriculture and infrastructure resilience, humanitarian logistics, use of (mobile) technology for development programmes
• Gain first hand insights from development banks, donors and government agencies on their financing priorities and funding guidelines

Agenda Topics:

• Improving health resilience & addressing current health threats (dengue, Zika, malaria, TB, HIV)
• Ensuring access to safe drinking water and sanitation
• Building resilient infrastructure to better support SDGs
• Improving lives and livelihoods and the safety of displaced people
• Utilising mobile technology to better reach and engage communities
• Improving connectivity, social networks and data exchange
• Financing of development and aid programmes in Myanmar
Links to external websites