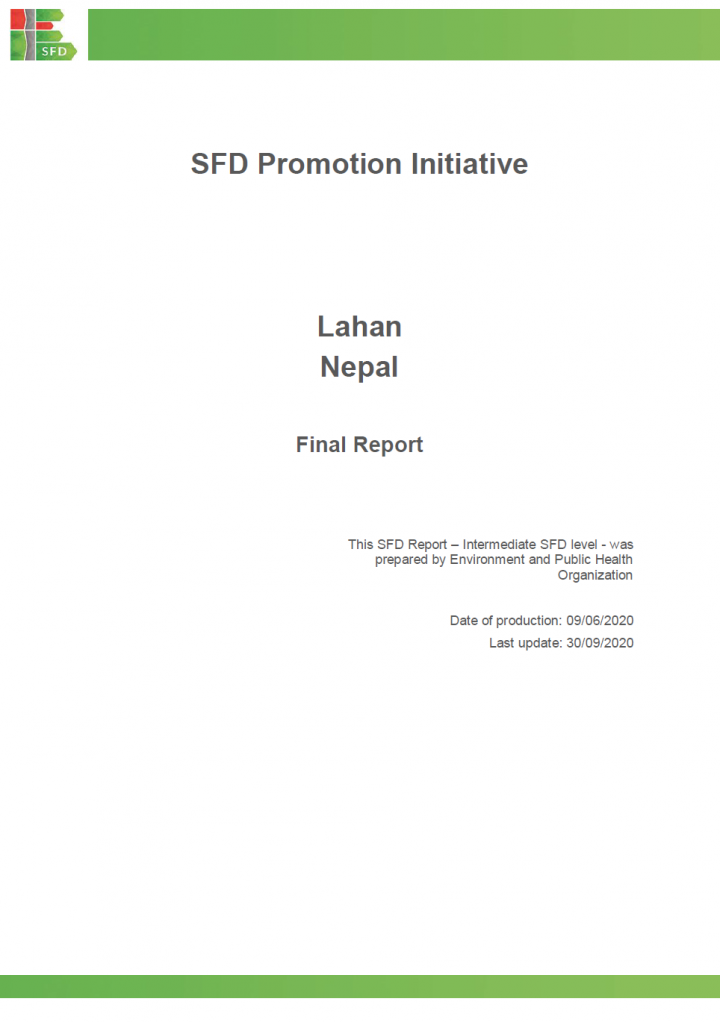 Published in: 2020
Pages: 51
Publisher:
Environment and Public Health Organization (ENPHO)
Author:
Shrestha, J., Bajracharya, B., Nhemaphuki, S.
Uploaded by:
SuSanA Admin
Partner profile:
common upload
---
1498 Views
132 Downloads
Lahan municipality is located in Siraha district of province number 2, Nepal. The municipality is divided into 24 wards. The municipality is home to 91,766 people as per census 2011. The population growth rate was 1.16% per year from 2001 to 2011.
This SFD Report was produced on 09/06/2020 and last updated on 30 /09/2020.
Additional information
The municipality is located at the latitude of 26.717 and longitude of 86.483. It is at an elevation of 111 metres above sea level. The topography of the municipality increases flooding and inundation during the rainy season. The climate of Lahan is warm and temperate. The average annual temperature is 24.3oC. The warmest month of the year is June, with an average temperature of 29.2oC and January is the coldest month of the year with the average temperature of 15.9oC. The average annual rainfall is 1,511 mm. The precipitation reaches its peak in July with an average of 448 mm while the driest month is December with 5 mm of rainfall.
Bibliographic information
Shrestha, J., Bajracharya, B., Nhemaphuki, S. (2020). SFD Report - Lahan, Nepal. Environment and Public Health Organization (ENPHO)
Filter tags
Case studies in other formats East Asia & Pacific English SFD Report
Download