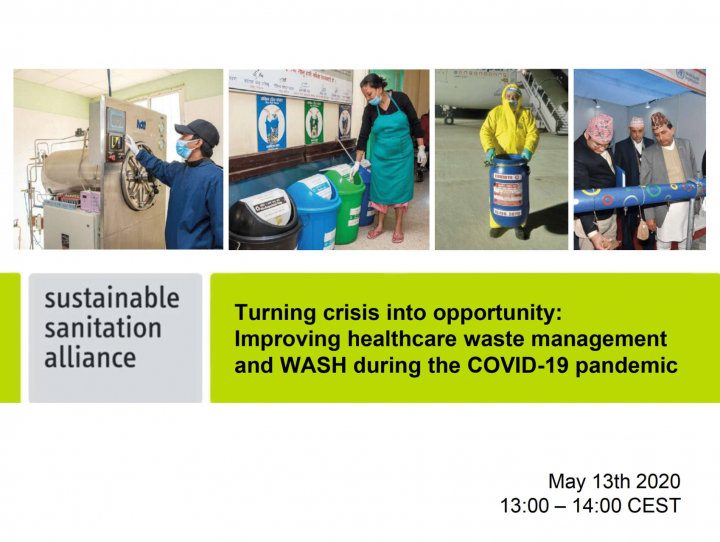 Published in: 2020
Publisher:
Deutsche Gesellschaft für Internationale Zusammenarbeit (GIZ) GmbH, Eschborn, Germany
Author:
Various Authors
Uploaded by:
SuSanA Admin
Partner profile:
Deutsche Gesellschaft für Internationale Zusammenarbeit (GIZ) GmbH
---
721 Views
170 Downloads
On 13th of May SuSanA and GIZ (Sustainable Sanitation Programme & Support to the Health Sector Programme Nepal) jointly hosted a webinar on "Improving healthcare waste management and WASH during the COVID-19 pandemic".

With the COVID-19 pandemic, we are experiencing a rapid increase in healthcare waste. Countries and health systems are struggling to safely manage and dispose of this waste in a way that does not compromise human health and the environment. Even before this pandemic, an assessment by WHO/UNICEF showed that the majority of countries lack basic waste management services in their healthcare facilities (WHO/UNICEF 2019). Burning waste in open pits, dumping untreated waste in landfills and contaminated water supplies are common in many resource constrained environments.

The GIZ-implemented project Support to the Health Sector Programme (S2HSP) in Nepal has started a joint project "Integrated Healthcare Waste Management at Sub-National Level," which works to strengthen local health governance through the integration of the health facility-based waste management with the overall municipal waste management system.

The Global Fund to Fight AIDS, Tuberculosis and Malaria has included for the 2020-2022 funding cycle 'Avoidance reduction and management of healthcare waste' as an explicit area for support. It encourages partner countries to incorporate sustainable healthcare waste management practices into their operations and funding requests.

Please find the presentations below.
Bibliographic information
Various Authors (2020). Turning crisis into opportunity: Improving healthcare waste management and WASH during the COVID-19 pandemic - Presentations. Deutsche Gesellschaft für Internationale Zusammenarbeit (GIZ) GmbH, Eschborn, Germany
Filter tags
English Presentations Recommended by SuSanA (other than SuSanA publications)
Information on external sites
Download