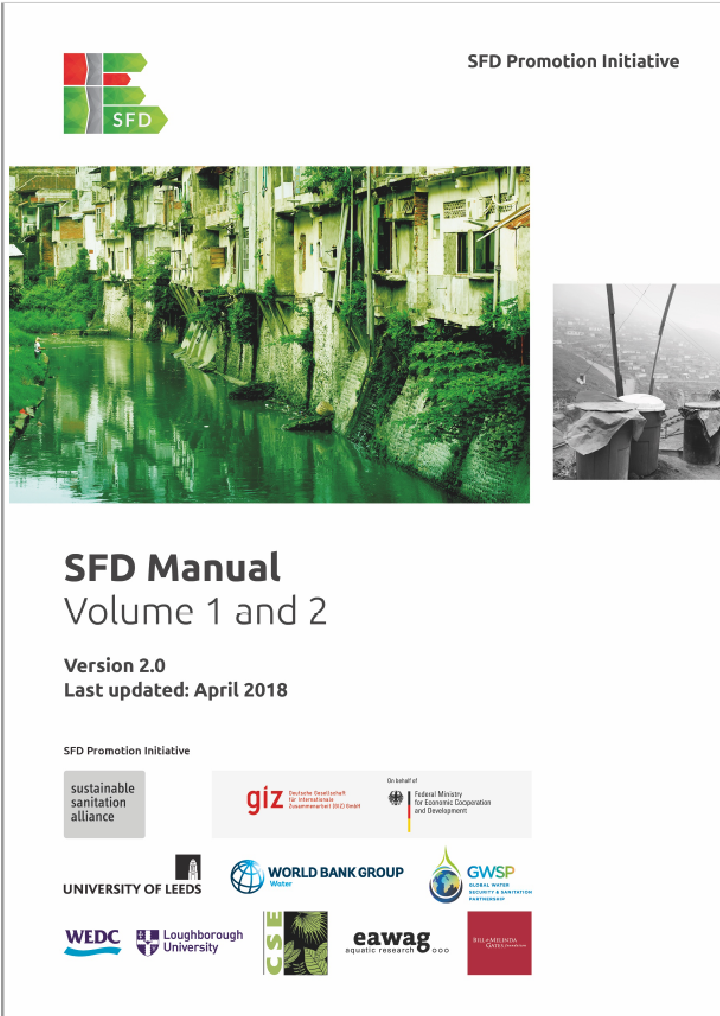 Published in: 2017
Pages: 121
Publisher:
SFD Promotion Initiative (SFD PI)
Author:
SFD PI
Uploaded by:
Cecilia Rodrigues
Partner profile:
common upload
---
13703 Views
4332 Downloads
An excreta flow diagram (also often described as shit flow diagram, SFD) presents a clear picture of the outcome arising from wastewater and faecal sludge management practices and services in a city or town. This is expressed in terms of the percentage of the population. An accompanying report describes the service delivery context of the city or town.
Additional information
Also see the Information on external sites for Spanish and Portugese translations of the SFD Manual.

The output from the SFD production process is a concise report (SFD Report) which contains the graphic (SFD Graphic), the qualitative assessment of the service delivery context and a complete record of the data sources used.

The SFD approach includes standardized guidance – a methodology and tools - for the easy production of standardized SFD Graphics. The SFD Manual – Volumes 1 and 2 (version 2.0), as well available in French and Arabic, and the SFD Graphic Generator were developed to enable the development of future SFD Reports.

The SFD Manual – Volume 1 and 2 (version 2.0) describes the process followed within the SFD Promotion Initiative (SFD PI) for the production of SFD Graphics and Reports and includes guidance on how to use the SFD Graphic Generator. Volume 1 of this manual is a guide for the data collection and analysis and should be read in conjunction with the accompanying Volume 2. The SFD Manual – Volume 2 includes:
• Part A - Master SFD Graphic
• Part B - Definitions of SFD Graphic Variables
• Part C - Definitions of Terms
• Part D - Sanitation Containment System: SFD Schematics


These documents were produced under the SFD Promotion Initiative and have been reviewed after being field-tested in more than 40 cities in Africa, Asia and Latin America. The results of this project are disseminated widely via the SFD portal hosted by the SuSanA (Sustainable Sanitation Alliance).
Bibliographic information
SFD PI (2017). SFD Manual (in Arabic, English and French) - SFD Promotion Initiative. SFD Promotion Initiative (SFD PI)
Filter tags
Arabic English Faecal sludge treatment processes French Guidelines and manuals Practitioners SFD General Library
Further readings
Download