IRC, the India Chapter of SuSanA, WaterAid, UNICEF and the India Sanitation Coalition held a webinar to discuss what convergent actions are needed to improve nutrition outcomes. The speakers focused on WASH as one of the key programme areas to be improved.
Images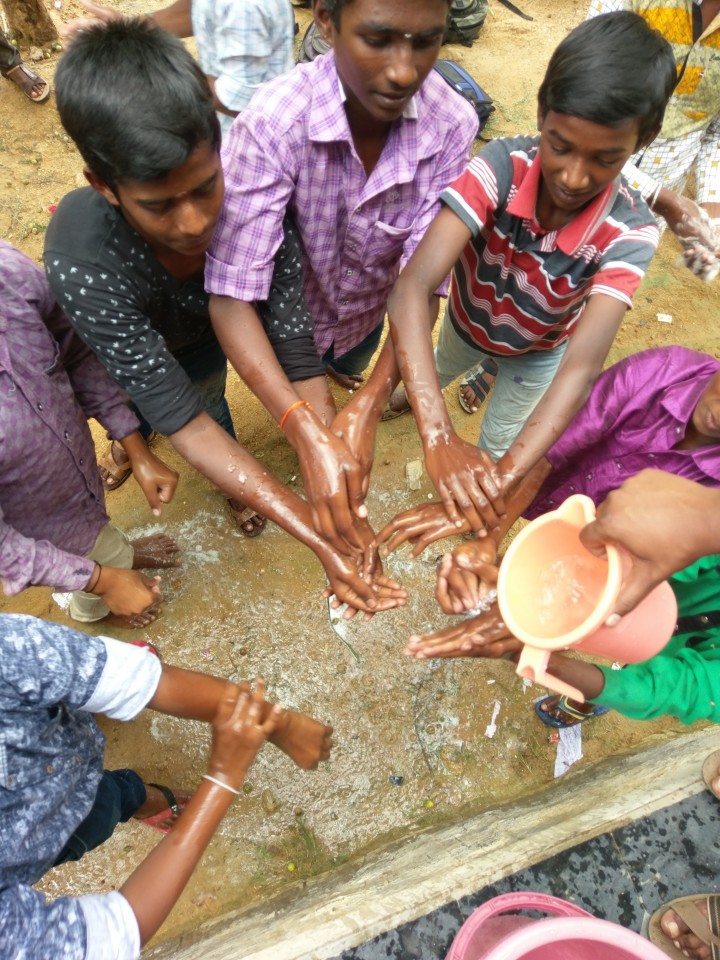 Image: Convergent Actions for Improved WASH and Nutrition &copy Nitya Jacob -
There is new and ample evidence of how convergent action has helped reduced malnutrition in India. A multi-state study that used decomposition analysis to isolate the contribution of different factors indicates that in Punjab, improved water and sanitation has reduced malnutrition by 13 per cent. This study is being conducted in West Bengal, Telangana and Karnataka as well, where malnutrition has declined significantly, to draw lessons for the rest of India.

One of the significant determinants is the socio-economic and education status of women, said Rajesh Kumar, Executive Director of State Health Systems Resource Centre in the Department of Health & Family Welfare, Govt. of Punjab, at a webinar on Convergent Actions for Improved WASH and Nutrition. It was organised on 6th August, 2021, by UNICEF, IRC, India Sanitation Coalition, WaterAid and the SuSanA India Chapter.

Underlining the need for community-led programmes, Sujoy Mojumdar, WASH Specialist with UNICEF, said a Swabhimaan, a UNICEF initiative across Bihar, Odisha and Chhatisgarh, shows that processes cannot be rushed. To engage the community, prior investments are needed to build capacity, facilitate access to finance and social protection schemes and ensure the uptake of WASH interventions. These collectively reduce risks of food and nutrition insecurity. The key hygiene practice of handwashing with soap had helped bring the Ebola epidemic under control, and there was some evidence of its impact on the COVID-19 pandemic as well.

He said developing and promoting champions further strengthened the process. Swabhimaan covered all stages of a woman's life-cycle especially the times when nutritional vulnerability was high, during adolescence, pre-pregnancy (newlyweds), pregnancy and lactation (mothers of children under-two). Its activities aimed at improving nutrition through group discussions to engage women and adolescent girls, provide loans for promoting WASH enterprises through village organizations and mobilize target groups for village health sanitation and nutrition day (VHSND) services. It engaged women's groups such as self-help groups to create the demand generation for services. As a result, there has been a three-fold increased in the use of toilets, a doubling in the use of sanitary napkins and SHGs have become active in the COVID-19 response.

The closure of schools and anganwadis due to the COVID-19 pandemic has affected the supply of nutrition, through mid-day meals, to children. Sujoy said UNICEF had appealed to state governments to reopen schools, especially primary schools.

The Ministry of Health and Urban Affairs (MoHUA) is developing a dashboard with support from the World Health Organization (WHO). This dashboard, said Benazir Patil, Chief Executive Officer of Schools4Dev, will provide decision makers as many as 40 indicators on public health. The data will come from databased maintained by the Central and local governments. This is an example of convergent action between several ministries, including Health and Family Welfare, Women and Child Development, National Health Mission and Jal Shakti.

While there are many drivers for urban health, both national and international, the ability of urban local bodies (ULBs) to effectively delivery programmes varies very widely. Some states in the western region have strong ULBs, while many in the eastern region have weak ULBs. Convergent action is especially challenging at all levels because the different departments work in silos. She said the dashboard that will be in public domain soon will be a powerful tool for presenting data from multiple sources that will also facilitate convergent action.

Tackling urban malnutrition is beset by multiple challenges, said Dr Kalyan Ashish Das, a practicing pediatrician with public health experience of working in various international and national organizations. Water and sewage systems mix leading to contamination of drinking water. More than 60 per cent of the sewage is released untreated into the environment. Health service providers do not follow handwashing protocols, and even during the COVID-19 pandemic, the use of sanitisers has not been widespread or proper.

WASH is a low-hanging fruit for improving nutrition, he said. Its contribution to soil transmitted helminths (STHs) is well-established but there are few convergent actions. India has two National Deworming Days where children are administered deworming tablets. Even though promotion of WASH is one of the important actions on these days, he said in most anganwadis or schools the hygiene practices by mid-day meal providers were extremely poor.

Participants highlighted the need to tackle malnutrition in poor rural areas. The universal use of toilets reduces diarrhoeal disease by 50 per cent. Coupled with better food intake, this can be an important way to reduce malnutrition.

The link to the webinar is available here - https://drive.google.com/file/d/1N8vJiturCQNMgs935KRaQbKCUFpf8Ntz/view?usp=sharing.