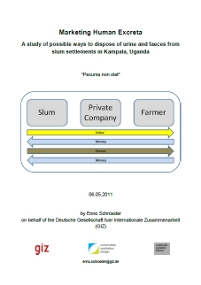 Published in: 2011
Publisher:
Deutsche Gesellschaft für Internationale Zusammenarbeit (GIZ) GmbH
Author:
Schröder, E.
Uploaded by:
SuSanA secretariat
Partner profile:
Deutsche Gesellschaft für Internationale Zusammenarbeit (GIZ) GmbH
---
4995 Views
216 Downloads
---
Location of library entry
Content - Summary
The objective of this study is to develop an economically sustainable logistics systems for separated human excreta which are generated in Urine-Diversion-Dehydration-Toilets (UDDTs) or similar devices, in slum areas of the capital of Uganda, Kampala. In order to finance the logistics, the generated human excreta should be marketed as fertiliser and used in agricultural areas around the city. Various interviews have been conducted with stakeholders, data was collected and literature was reviewed in order to design the logistics systems. After drafting them, cost calculations were carried out in order to test their economical feasibility.

This document is an excerpt of the practical information gathered during the preparation of the thesis:
Schroeder, E. (2011). Economic effects of sustainable sanitation - Logistics of human excreta in Uganda (also available in this library).
Bibliographic information
Schröder, E. (2011). Marketing human excreta - A study of possible ways to dispose of urine and faeces from slum settlements in Kampala, Uganda. Deutsche Gesellschaft für Internationale Zusammenarbeit (GIZ) GmbH
Filter tags
Case studies in other formats English Faeces or faecal sludge Sub-Saharan Africa Urban (entire city) Urban informal settlements (slums) Urine Urine diversion dehydration toilets (UDDTs)
Download