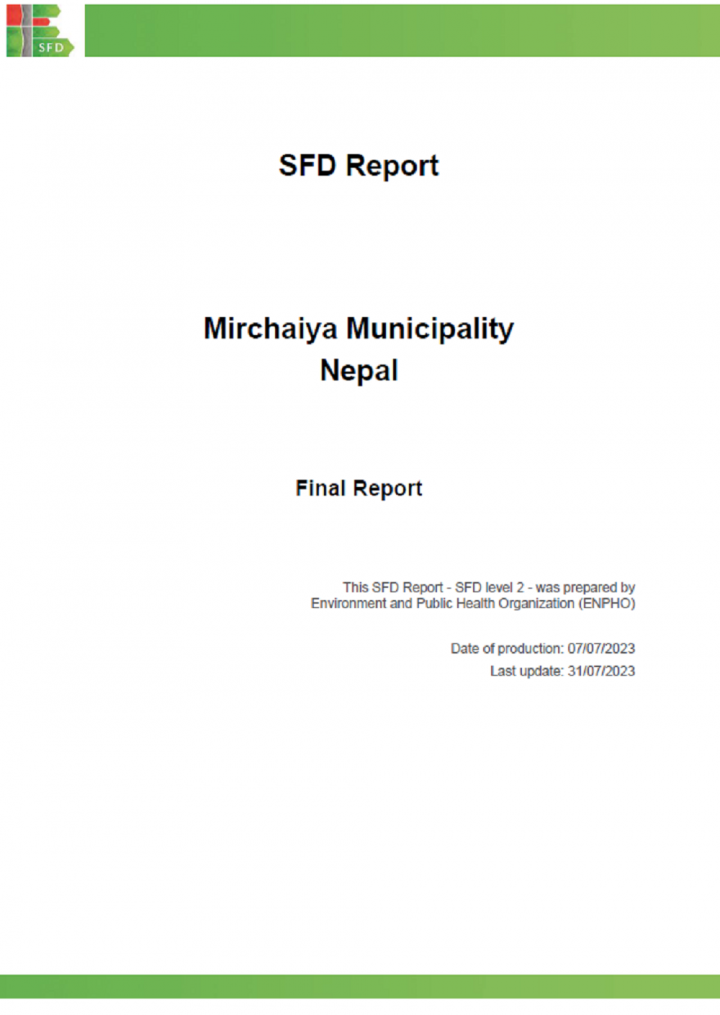 Published in: 2023
Pages: 51
Publisher:
ENPHO
Author:
ENPHO
Uploaded by:
SuSanA Admin
Partner profile:
common upload
---
185 Views
11 Downloads
Mirchaiya Municipality is situated in Siraha District of Madhesh Province in the southern region of Nepal. It is divided into twelve wards and covers an area of 91.97 sq. km. It was established on May 18, 2014 by merging the already-existing Village Development Committees (VDCs), Rampur Birta, Malhaniyakhori, Radhopur, Ramnagar, Mirchaiya, Phulbariya, Sitapur Pra. Da., and Madheshpur Gamharia. It lies at 26.4955° N latitude, 86.1516 °E longitude and at an altitude of 129 m above sea level. The municipality has a total population of 59,425 and is residing in 12,250 households.

Siraha District was declared Open Defecation Free (ODF) on March 23, 2018. Still, 9% of households do not have toilets whereas 91% households have the coverage of improved sanitation facility. The households without improved sanitation facility opt for open defecation. About 4% of households with improved sanitation facilities rely on offsite sanitation systems and 87% rely on onsite sanitation systems. Households with onsite sanitation systems have different sanitation technologies. About 2% of households have septic tanks, 47% have fully lined tanks, 22% have lined tanks with impermeable walls and open bottom, 14% lined pits with semi-permeable walls and open bottom, and 2% have an unlined pit.

The SFD graphic shows that excreta generated from 30% of the population are safely managed while excreta generated by 70% of the population are unsafely managed. The proportion of safely managed FS generated from 30% of population is temporary, since the FS has not been emptied. Once the containment starts to fill, the proportion of not emptied FS will be unsafely managed under the current practice of Faecal Sludge Management (FSM).
Bibliographic information
ENPHO (2023). SFD (level 2) Report - Mirchaiya Municipality, Nepal. ENPHO
Filter tags
English Politicians and local decision makers Practitioners SFD Report South Asia
Download