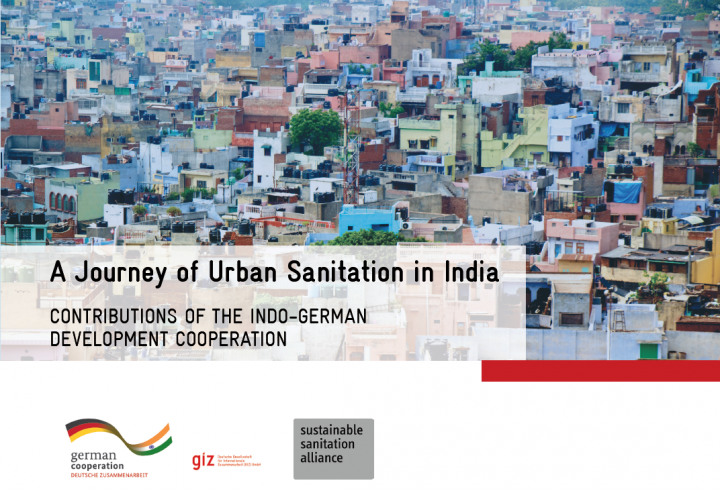 Published in: 2022
Pages: 88
Publisher:
Sustainable Sanitation Alliance (SuSanA), GIZ Sector Programme "Water Policy – Innovations for Resilience
Author:
Sinha, S., Kapur, D., Panesar, A., Sharma, R., Venugopal, V., Bahl, M., Büürma, M., Tempel, A., Köcke, S.
Uploaded by:
SuSanA Admin
Partner profile:
Deutsche Gesellschaft für Internationale Zusammenarbeit (GIZ) GmbH
---
711 Views
55 Downloads
The sanitation situation in India has improved significantly in the last few years. This has been made possible by the foundation laid by various efforts - policies, programmes, investments and collaborations - over the years.

This publication aims at describing India's urban sanitation journey and the contribution to it by the Indo-German Development Cooperation specially over the last ten years.
Additional information
The legacy of interventions and experience captured in this publication may be useful for organisations and professionals working in the sanitation sector as well as new entries to the sector to assess and plan new or additional interventions. This joint journey together has provided vast experience of successes, roadblocks, learnings, of working on-the-ground as well as in the enabling environment of policy development, legal systems, capacity development and institutional strengthening.

India's rapid urbanisiation is challenging however, sustained and harmonised efforts for capacity development of service providers and citizens across sectors, missions and programmes, long-term planning, an amalgamation of approaches, technologies and preparedness for emergencies will go a long way in developing 'liveable and resilient' cities across India. Insights of priorities and challenges in the publication, gives direction to the way forward to achieve holistic progress emphasising the crucial role that sanitation plays in urban sustainable development.

The journey so far has laid the foundation for additional efforts that are required for the ambitious task of improving urban sanitation, public health and well-being of the country.

Factsheets and other knowledge material referred to in this publication can be accessed through the links below.
Bibliographic information
Sinha, S., Kapur, D., Panesar, A., Sharma, R., Venugopal, V., Bahl, M., Büürma, M., Tempel, A., Köcke, S. (2022). A Journey of Urban Sanitation in India - Contributions of the Indo-German Development Cooperation. Sustainable Sanitation Alliance (SuSanA), GIZ Sector Programme "Water Policy – Innovations for Resilience
Filter tags
East Asia & Pacific English Urban (entire city)
Further readings
Download