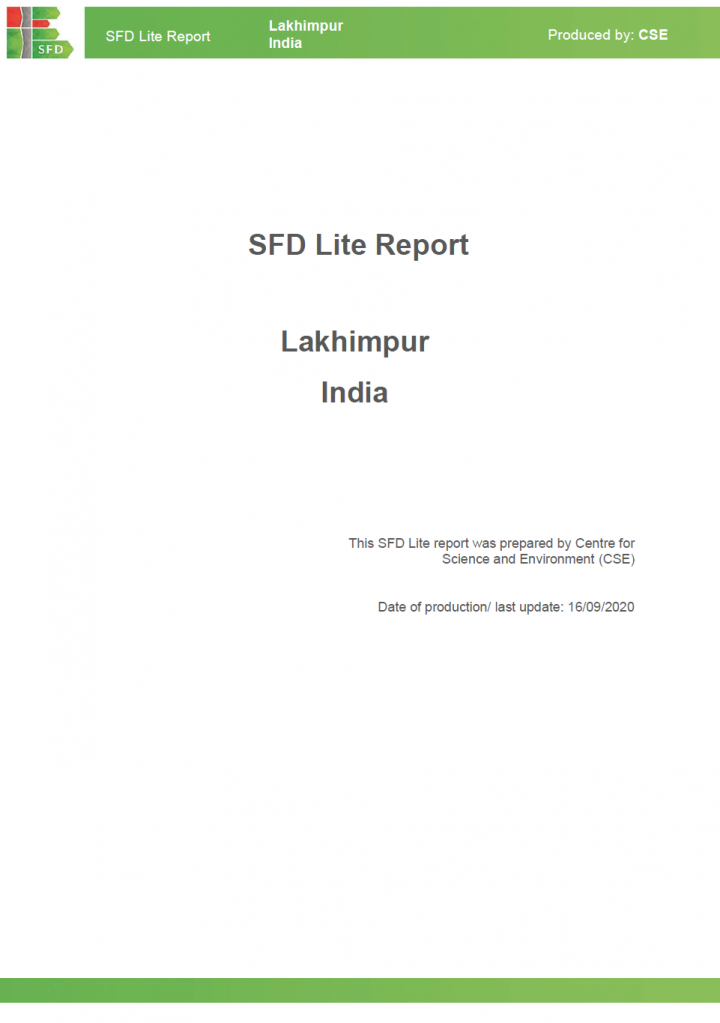 Published in: 2020
Pages: 11
Publisher:
Centre for Science and Environment (CSE)
Author:
Bharti, A., Mankotia, R.
Uploaded by:
SuSanA Admin
Partner profile:
common upload
---
975 Views
34 Downloads
Lakhimpur Kheri is the largest district in Uttar Pradesh, India, on the border with Nepal. Its administrative capital is the city of Lakhimpur. Lakhimpur Kheri district is a part of Lucknow division, with a total area of 7,680 km2 (2,970 sq. mi) out of which 10.10 km2 is the Lakhimpur Nagar Palika. This SFD Report was produced and last updated on 16/09/2020.
Additional information
The national government designated Lakhimpur Kheri as a Minority Concentrated District on the basis of 2001 census data, which identifies it as requiring urgent aid to improve living standards and amenities. A 2010 survey published by the Ministry of Urban Development (Government of India, 2013) placed Lakhimpur as the second lowest ranking city in India in terms of sanitation. Lakhimpur was formerly known as Luxmipur. Another theory suggests that the name derives from the khair trees that once covered large tracts in the area.
Nagar Palika Parishad Lakhimpur was established on 14th July 1968. Nagar Palika has updated in 2nd Class Board by the letter no. 1348V/5997 dated 16th May 1958. As per census data from year 2011, the population of Lakhimpur City is 151,999 (Table 1) and the total area is 10.10 km2. The floating population is negligible and hence, not used for preparation of this SFD report. The climate is hot throughout the year except the rainy seasons. During summer (March to June), the temperature can reach above 40°C (104°F) and in winters (October to February) it can drop to around 4°C (39°F). The nights are very cold during winter and fog is very common in this season (District Census Handbook, 2011).The annual average rainfall in Lakhimpur Kheri is 1,085.3 millimetres (42.73 in), mostly in the monsoon months (July to September).
Bibliographic information
Bharti, A., Mankotia, R. (2020). SFD Lite Report - Lakhimpur, India. Centre for Science and Environment (CSE)
Filter tags
Case studies in other formats East Asia & Pacific English SFD Report
Download