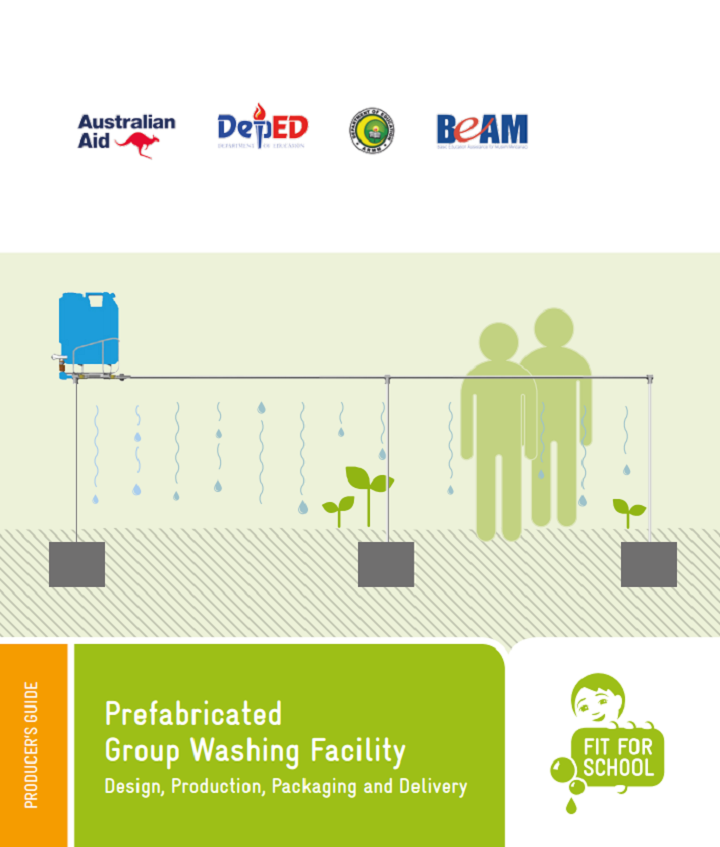 Published in: 2016
Pages: 17
Publisher:
Deutsche Gesellschaft für Internationale Zusammenarbeit (GIZ) GmbH
Author:
Holmer, R., Schappert, J., Siewert, M., Larano, L., Madrid, F., Chilvers, M.
Uploaded by:
SuSanA Admin
Partner profile:
Deutsche Gesellschaft für Internationale Zusammenarbeit (GIZ) GmbH
---
263 Views
4 Downloads
Schools across ARMM have constructed their own group washing facilities. Simple affordable materials, like used plastic bottles, can be used to make tippy taps, for example, which can make handwashing facilities accessible for all. However, when building more durable structures, many schools struggle to ensure the functionality of their facilities over time. In some cases, schools may lack the technical expertise or financial resources to repair and properly maintain more complex systems.

Based on these observations, GIZ's Fit for School program designed a simple group washing facility which would minimize some of the issues mentioned above. In particular the system:
- is accessible and designed for a group of children
- assures sustainable functionality
- has a 'self-contained' water source
- is low-cost
- reduces water consumption to a minimum
- allows for school community involvement

As school communities often have limited access to funding, prefabricated units are an ideal solution as they provide schools with higher quality facilities for a lower cost.
Bibliographic information
Holmer, R., Schappert, J., Siewert, M., Larano, L., Madrid, F., Chilvers, M. (2016). Prefabricated Group Washing Facility - Design, Production, Packaging and Delivery. Deutsche Gesellschaft für Internationale Zusammenarbeit (GIZ) GmbH
Filter tags
Educators Guidelines and manuals
Download