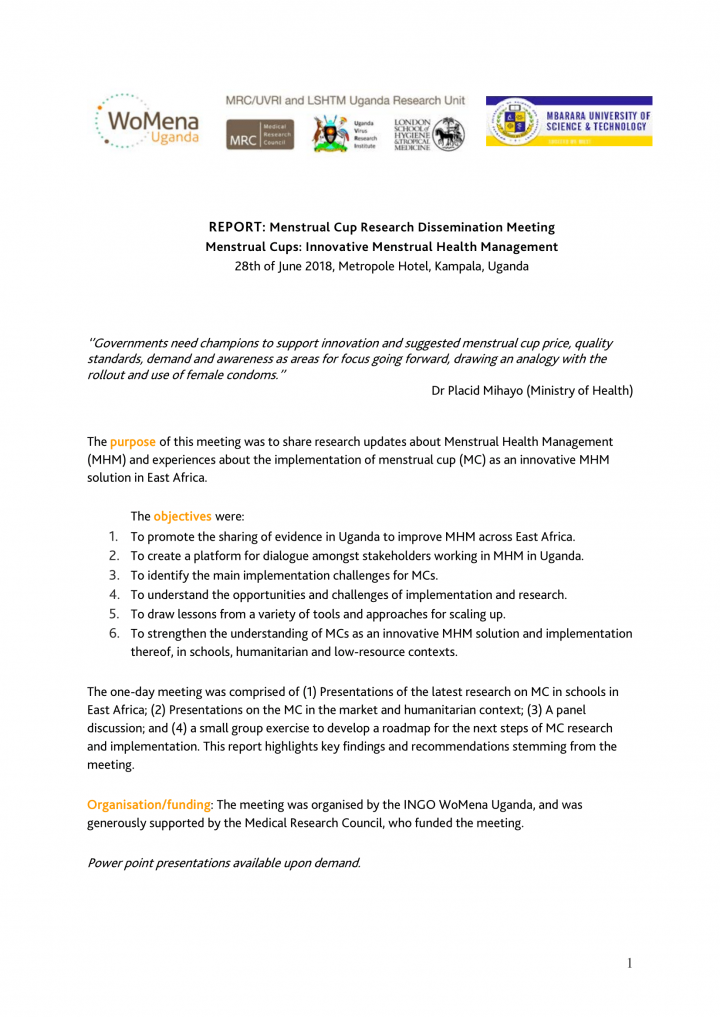 Published in: 2018
Pages: 1
Publisher:
WoMena, 28th of June 2018, Metropole Hotel, Kampala, Uganda
Author:
WoMena
Uploaded by:
Marianne Tellier
Partner profile:
WoMena
---
436 Views
4 Downloads
---
Location of library entry
The purpose of this meeting was to share research updates about Menstrual Health Management
(MHM) and experiences about the implementation of the menstrual cup (MC) as an innovative MHM
solution in East Africa.

The objectives were:
1. To promote the sharing of evidence in Uganda to improve MHM across East Africa.
2. To create a platform for dialogue amongst stakeholders working in MHM in Uganda.
3. To identify the main implementation challenges for MCs.
4. To understand the opportunities and challenges of implementation and research.
5. To draw lessons from a variety of tools and approaches for scaling up.
6. To strengthen the understanding of MCs as an innovative MHM solution and implementation
thereof, in schools, humanitarian and low-resource contexts.

The one-day meeting was comprised of (1) Presentations of the latest research on MC in schools in
East Africa; (2) Presentations on the MC in the market and humanitarian context; (3) A panel
discussion; and (4) a small group exercise to develop a roadmap for the next steps of MC research
and implementation. This report highlights key findings and recommendations stemming from the
meeting.
Bibliographic information
WoMena (2018). Menstrual Cup Research Dissemination Meeting - Menstrual Cups: Innovative Menstrual Health Management. WoMena, 28th of June 2018, Metropole Hotel, Kampala, Uganda
Filter tags
English Sub-Saharan Africa
Information on external sites
Download