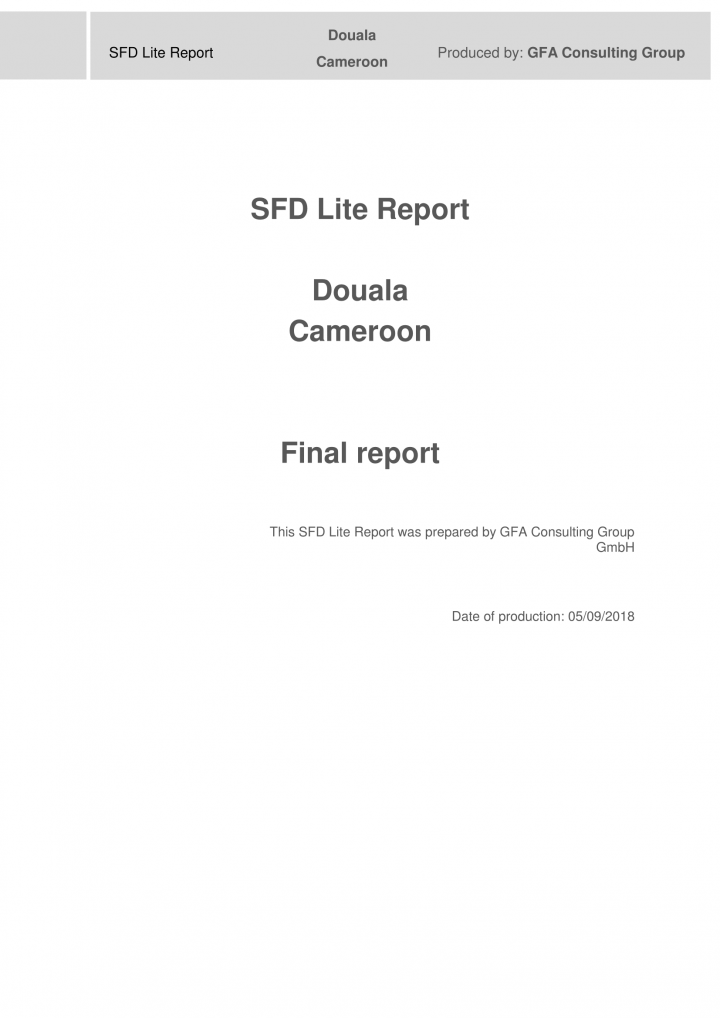 Published in: 2018
Pages: 11
Publisher:
GFA Consulting Group GmbH, Hamburg, Germany
Author:
Feumba, R., Burchard, A., Kappauf, L.
Uploaded by:
SuSanA Admin
Partner profile:
common upload
---
2223 Views
79 Downloads
---
Location of library entry
Douala is the economic capital of Cameroon. In 2005, Douala had 1,907,479 inhabitants (RGPH, 2010). With a growth rate of 4.7%, the population of the city was estimated to be 3,309,939 inhabitants in 2017. The total area of the city (excluding Douala VI and Wouri River) is about 41,000ha. According to ENSP/L3E (2014), 30 to 40% of the area is occupied by slums. Only 50% of housing in Douala can be considered as accessible by a paved road and emptying trucks (Toukap, 2012).
In Douala, 86% of the population uses onsite sanitation systems, with only 2% of the residents connected to offsite systems. 13% of the population practices open defecation. It is estimated that only 16% of excreta in the city is safely managed. This report is available in English and French.
Bibliographic information
Feumba, R., Burchard, A., Kappauf, L. (2018). SFD Report - Douala, Cameroon (in English and French) - SFD Promotion Initiative. GFA Consulting Group GmbH, Hamburg, Germany
Filter tags
English French SFD Report Sub-Saharan Africa
Download