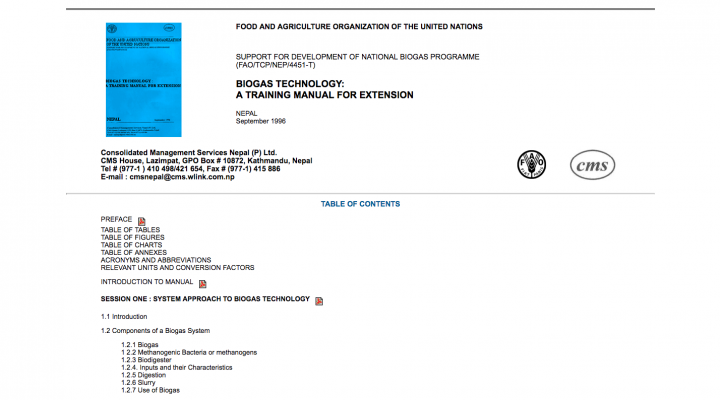 Published in: 1996
Pages: 17
Publisher:
Consolidated Management Services Nepal (P) Ltd., Kathmandu, Nepal and Food & Agriculture Organization of the United Nations
Author:
FAO
Uploaded by:
Sterenn Philippe
---
350 Views
0 Downloads
This manual is an outcome of (FAO/TCP/NEP/4451 -T) project being implemented with the Ministry of
Forest and Soil Conservation as the liaison institution. CMS developed this manual through six stages. To
start with, a team of four CMS professionals prepared a draft of this manual which was improved upon
based on the comments and suggestions from the national experts and practitioners. At this stage,
professional inputs from FAO was also used. This first draft was put to test in the first training programme
participated by the 30 district and central level officers from the departments of Forest, Soil Conservation.
Agriculture. Livestock, and other agencies active in the promotion of biogas technology in the country
including rural credit institutions and NGOs. The team of professionals who prepared the manual also
presented it in the training programme and made subsequent improvements based on the experience gained
and comments received from the participants. Thus, an improved second draft was prepared and put to test
in the second training programme also participated by 30 participants from the same institutions This
process was repeated for each of the five training programmes organized at 15 days interval during June to
August 1996. The draft manual prepared after the third training also incorporated the comments and
suggestions from FAO experts. Altogether 151 senior officials were trained in the process of bringing this
manual to its present shape.
Bibliographic information
FAO (1996). Biogas Technology: A training manual for extension - Support for Development of National Biogas Programme. Consolidated Management Services Nepal (P) Ltd., Kathmandu, Nepal and Food & Agriculture Organization of the United Nations
Filter tags
Asia & Pacific English Trainer manuals (adult learning)
Information on external sites