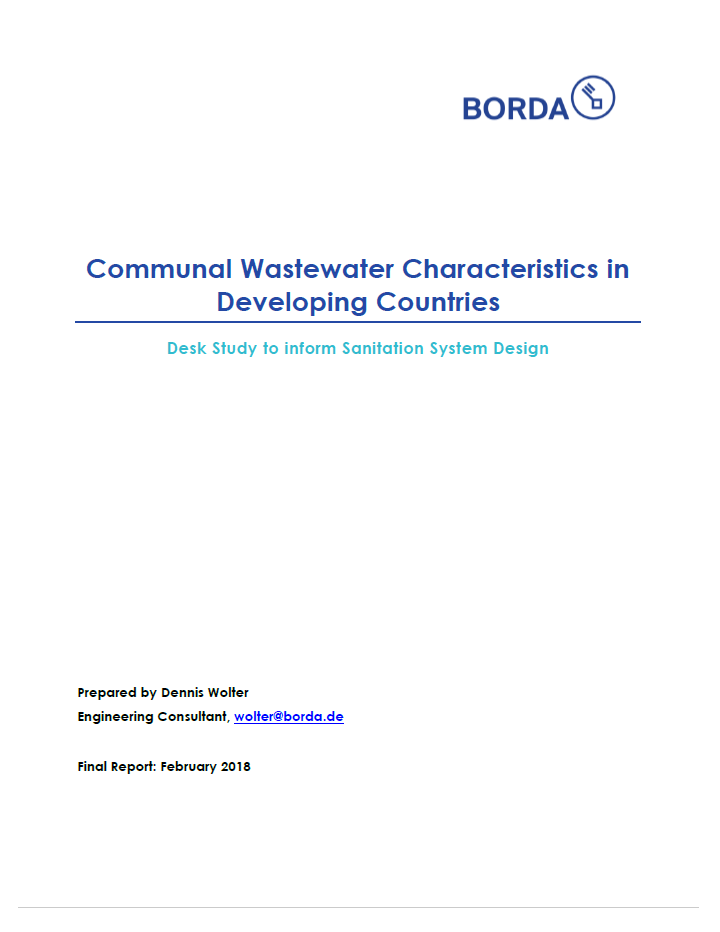 Published in: 2018
Pages: 114
Publisher:
BORDA
Author:
Wolter, D.
Uploaded by:
SuSanA Admin
Partner profile:
common upload
---
1598 Views
285 Downloads
Wastewater characteristics for developing countries are usually either very generalising, outdated or only applicable in a limited context under specific circumstances.

The goal of this assignment is to review and collate accessible data on DEWATS design parameters in developing countries and where possible to classify it depending on country and income group in order to
• identify knowledge gaps which will guide future BORDA R&D efforts
• form the basis for improved DEWATS design procedures

The systems and setups under investigation are communal systems (small sewer systems, community sanitation centres and combinations of the two), institutional and commercial setups, i.e. schools, offices, hospitals, hotels/lodges, and industrial systems (limited to agricultural systems and systems from industries dealing with predominantly organic products such as food processing, pulp and paper and abattoirs). The wastewaters under investigations are blackwater, greywater and mixed black and greywater as far as human activities are the source of the waste.
Content - Summary
These 3 documents are available for download:
1) Communal Wastewater Characteristics in Developing Countries
2) Wastewater Characteristics - Research Database
3) Wastewater Characteristics - Design Database
Bibliographic information
Wolter, D. (2018). Communal Wastewater Characteristics in Developing Countries - Desk Study to inform Sanitation System Design. BORDA
Filter tags
Decentralised wastewater treatment (e.g. DEWATS) East Asia & Pacific English Europe & Central Asia Latin America & Caribbean Middle East & North Africa Sub-Saharan Africa Urban (entire city)
Download