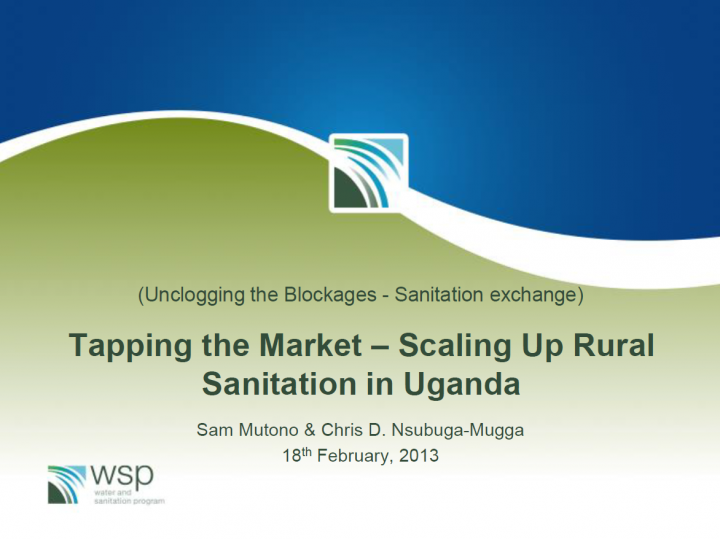 Published in: 2014
Publisher:
Unclogging the Blockages, Kampala, Uganda.
Author:
Various Authors
Uploaded by:
SuSanA Admin
Partner profile:
common upload
---
1007 Views
24 Downloads
Conference Themes: The Action Exchange

Unclogging the Blockages is about action. The action exchange was organized according to several themes (several are listed below) with experts from each of these subject areas presenting and leading small group discussions with their peers on what are the main challenges and barriers for moving forward. After these initial discussions, the challenges were be presented to larger mixed groups and a facilitated discussion took place to find solutions. These discussions were also oriented towards skill and knowledge transfer for the uninitiated. Participants left the meeting with specific action plans and ideas to test.

- Starting Social Enterprises in Sanitation
- Linking CLTS with Sanitation as a Business
- Systems and Tools for Direct Sales
- Business Development Services and Accelerators
- Social and Commercial Sanitation Investment
- Micro Finance and Effective Sanitation Financial Products
- Technology, R&D, Product Development, and Supply Chain
- Public Sector Roles
- Monitoring and Data Sharing
- Health and Hygiene
- Urban Tools
- Fecal Sludge and Solid Waste Management
- Reuse and Energy

Content (available for download below):

Final Report of the Conference

Unclogging the Blockages Workshop Programme

Invitation Letter

Speech by Water for People

Speech by Minister of Health

Overview Sanitation and Hygiene Uganda

WSUP Info

5 Myths about Sanitation

Human Centred Design

PYXERA Organisation Overview

Johnson & Johnson

WSP - Tapping the Market

Water Credit Initiative

Water Credit Initiative Info

Angels Hub

Clean Team

TEECs Microfinance

ACUMEN

PLAN Malawi

Public Sector
Bibliographic information
Various Authors (2014). Unclogging the Blockages in Sanitation - Conference materials. Unclogging the Blockages, Kampala, Uganda.
Filter tags
English Presentations Sub-Saharan Africa
Information on external sites
Download