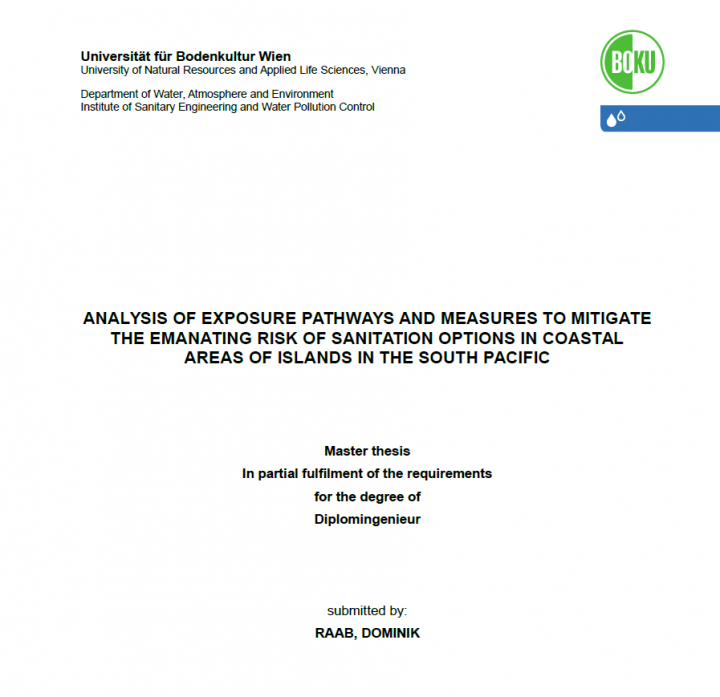 Published in: 2017
Pages: 125
Publisher:
Universität für Bodenkultur
Author:
Raab, D.
Uploaded by:
SuSanA Admin (susanaadmin)
---
609 Views
20 Downloads
Rural coastal areas of islands in the South Pacific are often characterized by shallow groundwater and are prone to floods. The prevalent pit-based sanitation (i.e. 'bush', Dry, and Pour-Flush Toilets) may cause microbiological and chemical groundwater contamination. Floods involve the risk of spreading pathogens in the environment and may cause toilets to be inoperable. Composting Toilets (i.e. Double Vault non-Urine-Diverting Toilet) have been piloted in several island states to overcome these problems as they are built above ground and contain the excreta in watertight vaults. Urine-Diverting Dry Toilets (UDDTs; i.e. Double Vault Urine-Diverting Dry Toilet) are constructed similarly, with the difference of urine and faeces being treated separately. Both alternatives offer the possibility of reusing their output products (urine, faeces or excreta) as fertilizer.
This thesis assesses the applicability and emanating health risks of these three options under the given context. Each system was divided into its functional groups in order to identify exposure pathways and recommend measures to reduce the risk based on these entities. A focus was on the reuse-oriented systems' reliability of treatment which determines the exposure during application of output products and consumption of products.
Bibliographic information
Raab, D. (2017). Analysis of exposure pathways and measures to mitigate the emanating risk of sanitation options in coastal areas of islands in the south pacific - Master thesis. Universität für Bodenkultur
Filter tags
Asia & Pacific Case studies in other formats English Europe, Caucasus & Central Asia
Download