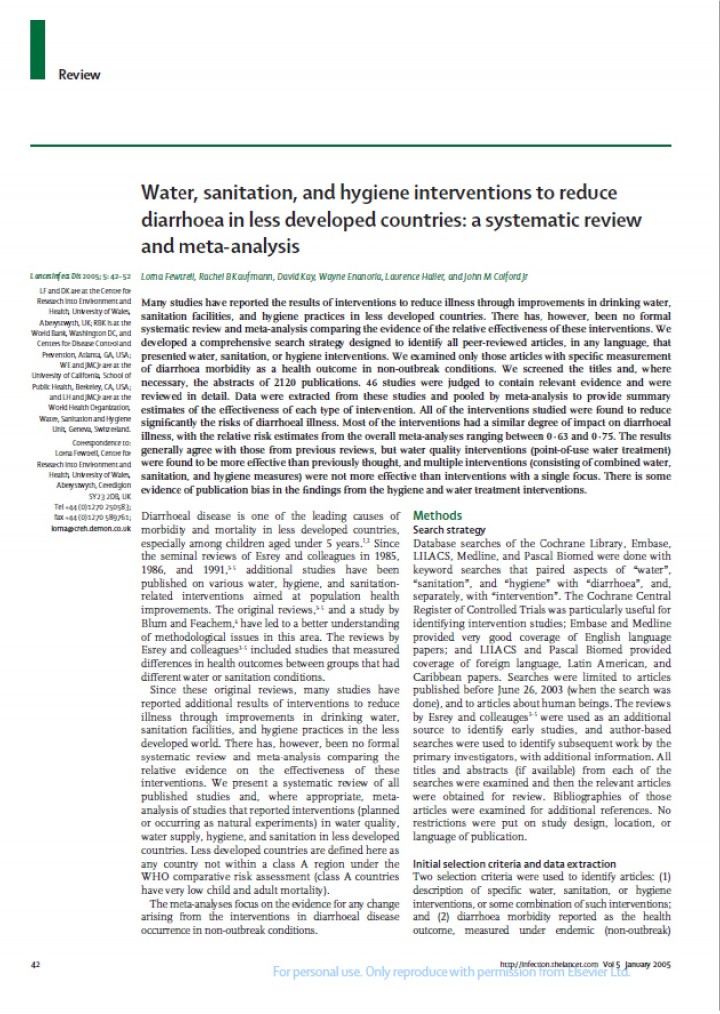 Published in: 2005
Pages: 11
Publisher:
The Lancet Infectious Diseases Vol. 5 No. 1 pp. 42-52
Author:
Fewtrell, L. et al.
Uploaded by:
SuSanA Admin
Partner profile:
common upload
---
4676 Views
211 Downloads
Many studies have reported the results of interventions to reduce illness through improvements in drinking water,
sanitation facilities, and hygiene practices in less developed countries. There has, however, been no formal systematic review and meta-analysis comparing the evidence of the relative effectiveness of these interventions. A comprehensive search strategy designed to identify all peer-reviewed articles, in any language, that
presented water, sanitation, or hygiene interventions was developed.
Content - Summary
In many countries and over many years, there was found to be a strong consistency in the effectiveness of the interventions. The review suggests that water, sanitation, and hygiene interventions, as well as their combination, are
effective at reducing diarrhoeal illness, and water quality interventions (point-of-use water treatment) were more effective than has been previously acknowledged. However, publication bias may have been present in the subset of studies on water quality. Surprisingly, there was no evidence of an additive benefit from the application of concurrent multiple interventions.
Bibliographic information
Fewtrell, L. et al. (2005). Water, sanitation, and hygiene interventions to reduce diarrhoea in less developed countries - a systematic review and meta-analysis. The Lancet Infectious Diseases Vol. 5 No. 1 pp. 42-52
Filter tags
English WASH and nutrition (WG12)
Download