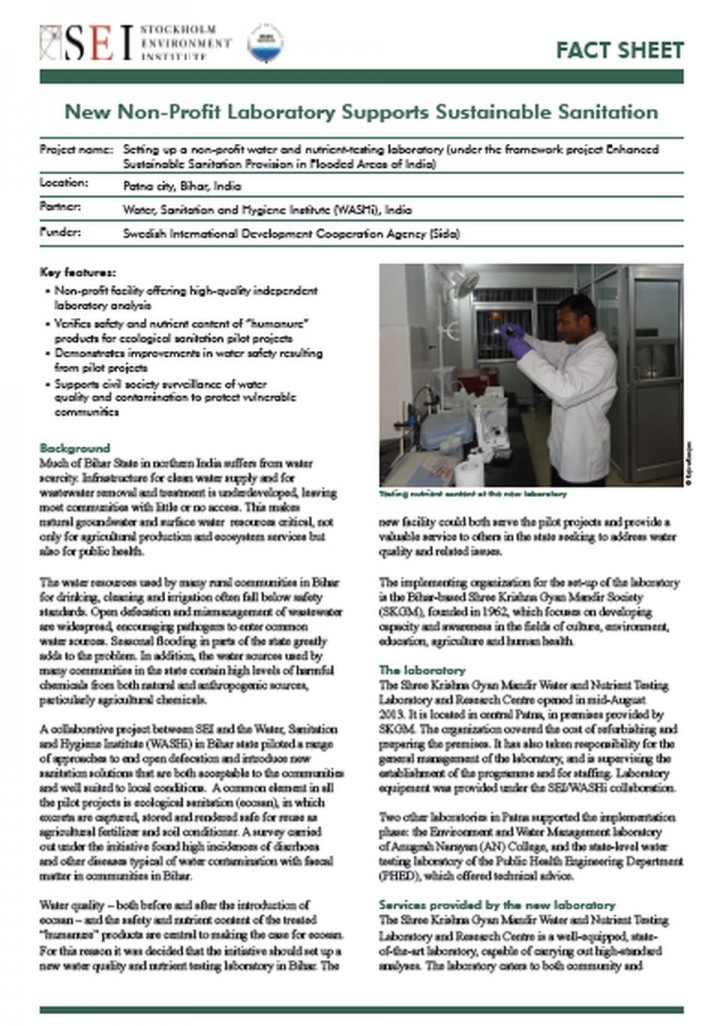 Published in: 2014
Pages: 2
Publisher:
Stockholm Environment Institute (SEI), Stockholm, Sweden
Author:
Andersson, K.
Uploaded by:
SuSanA Admin
Partner profile:
common upload
---
3450 Views
5 Downloads
This fact sheet describes the setting up of a new non-profit water- and nutrient-testing laboratory in Patna, India, to support a set of pilot projects promoting sustainable sanitation solutions in the state of Bihar and provide a valuable and unique service to the public.
Content - Summary
Waterborne pollution and pathogens pose serious threats to communities that rely on untreated surface water for drinking, washing and preparing food. In partnership with the WASH Institute in India and the Shree Krishna Gyan Mandir Society in Patna, SEI supported the establishment of a new state-of-the-art laboratory to test water quality and the nutrient and pathogen content of fertilizers.

The laboratory supported a set of pilot projects in Bihar aimed at promoting ecological sanitation (ecosan) in rural communities with little or no sanitation provisions. Ecosan was deemed the most appropriate form of sustainable sanitation, since it can not only help to reduce the health and environmental impacts of open defecation but can also improve rural livelihoods and nutrition for small-scale farmers through the productive reuse of treated excreta in agriculture. Tests at the laboratory not only verified improvements in water quality in the pilot communities but also revealed the nutrient and pathogen content of "humanure" fertilizers produced by ecosan, ensuring optimal treatment of excreta.

In its nutrient-testing capabilities the laboratory is unique in Bihar. It provides its services, on a cost-recovery basis, to local communities, institutions and civil society, as well as carrying out educational activities.
Bibliographic information
Andersson, K. (2014). New non-profit laboratory supports sustainable sanitation - Factsheet. Stockholm Environment Institute (SEI), Stockholm, Sweden
Filter tags
Asia & Pacific English Factsheets and policy briefs
Information on external sites
Download