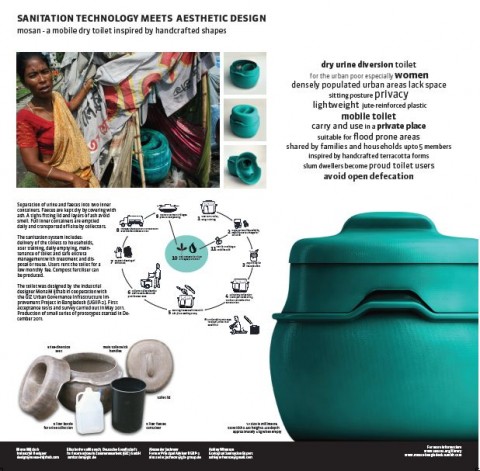 Published in: 2012
Publisher:
Poster at the Dry Toilet Conference in Tampere, Finland
Author:
Mijthab, M.
Uploaded by:
SuSanA secretariat
Partner profile:
common upload
---
4207 Views
111 Downloads
Content - Summary
Separation of urine and faeces into two inner containers. Faeces are kept dry by covering with ash. A tight-fitting lid and layers of ash avoid
smell. Full inner containers are emptied daily and transported off-site by collectors.
The sanitation system includes: delivery of the toilets to households,
user training, daily emptying, maintenance of toilet and safe excreta
management with treatment and disposal or reuse. Users rent the toilet for a low monthly fee. Compost fertiliser can be produced.
The toilet was designed by the industrial designer Mona Mijthab in cooperation with the GIZ Urban Governance Infrastructure Improvement
Project in Bangladesh (UGIIP-2). First acceptance tests and survey carried out in May 2011.
Bibliographic information
Mijthab, M. (2012). Sanitation technology meets aesthetic design - mosan - a mobile dry toilet inspired by handcrafted shapes. Poster at the Dry Toilet Conference in Tampere, Finland
Filter tags
Asia & Pacific English Posters, brochures and flyers Urban informal settlements (slums) Urine diversion dehydration toilets (UDDTs)
Download