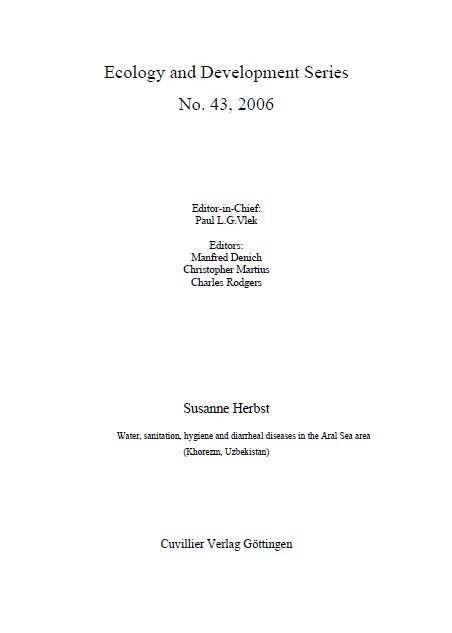 Published in: 2006
Publisher:
PhD thesis, Cuvillier Verlag Göttingen, Germany
Author:
Herbst, S.
Uploaded by:
SuSanA secretariat
Partner profile:
common upload
---
7886 Views
68 Downloads
---
Location of library entry
Content - Summary
This study aimed to create active monitoring data on the incidence of diarrheal diseases and to study the risk factors water, sanitation and hygiene. For the epidemiological data collection, a self-reported monitoring of diarrheal diseases was conducted during a 12-week period in summer 2003 and a 4-week winter follow-up in February 2004. Each of the 186 randomly selected households entered all diarrhea episodes on a daily basis into a diarrhea diary, which was checked and exchanged by interviewers weekly. For the determination of risk factors linked to drinking water hygiene, sanitation and hygiene a standardized questionnaire was designed with a focus on the following points: drinking water issues (collection, storage, treatment), healthrelated behavior of households, knowledge on diarrhea (causes, prevention, treatment)and domestic hygiene.

The analysis revealed that visible contamination of drinking water during storage and absence of anal cleansing material were associated with the number of diarrhea episodes per household.
Bibliographic information
Herbst, S. (2006). Ecology and development series No. 43, 2006 - Water, sanitation, hygiene and diarrheal diseases in the Aral Sea area. PhD thesis, Cuvillier Verlag Göttingen, Germany
Filter tags
Case studies in other formats English Europe & Central Asia Rural
Download