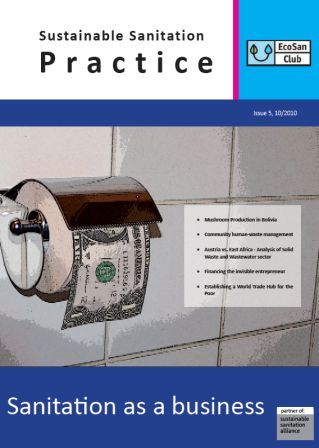 Published in: 2010
Publisher:
Sustainable Sanitation Practice (SSP), Issue 5. EcoSan Club, Austria
Author:
Ecosan Club (ed.)
Uploaded by:
SuSanA secretariat
Partner profile:
common upload
---
5084 Views
70 Downloads
---
Location of library entry
Content - Summary
It is generally accepted now that a main issue for sustainable implementation of sanitation systems is creating a market for sanitation products, i.e. liquid and solid fertilizers from human urine and faeces, respectively. Additionally, the involvement of small businesses carrying out services in sanitation systems is key.

"Sanitation as a business" focuses on this important topic. Several examples are shown how values can be created and how entrepreneurs can be interested to provide services in sanitation systems.

Issue 5 contains the following articles:

From excrement to pines to mushrooms to money in Bolivia
Fogelberg, K., Montes, J., Soto, B.

Ecological sanitation has been promoted by many institutions in Bolivia for the last decade, but the country has yet to make a dent in the millions of Bolivians who continue to practice open defecation. While the high percentage of unattended rural Bolivians should serve as a call to action, what is more disturbing are the results from postimplementation
evaluations that show that 50% of toilets are not used as intended. But there is a silver lining to the problems of sustaining sanitation investments, if organizations are willing to think outside the box. Experience from the field has shown that people are often equally, if not more, interested in improving their income, not just their health. This
paper will describe the experience of an emerging rural sanitation business in Bolivia that uses composts from ecological toilets to produce pine trees, under which grow a highly marketable form of mushroom.
+++++++
Community-based, resources-oriented management of separated human waste in peri-urban areas in Nakuru,Kenya
Grambauer, F.

This article presents the main points of a business plan developed for a community-based resources-oriented human waste management system in Nakuru, Kenya. In this system a community-based organisation (CBO) is working as a small business engaged in the collection, transportation and treatment of separated excreta from Urine Diverting Dry Toilets (UDDTs). To verify the potential profitability of the system a projected income statement, included in a detailed business plan, was developed. In order to identify the related costs a case study was conducted in Nakuru in November 2009. The detailed financial projections indicate that profitability can be reached by year four of operation.
+++++++
Towards a sustainable strategy for implementing a waterless sanitation system with urine diversion in East Africa – Lessons learned from Austria
Kleemann, F.

Waterless sanitation systems with urine diversion are considered as a suitable solution for East African cities. To successfully implement the sanitation system, functioning organisational structures and a sustainable financial strategy are needed. For waterless sanitation systems other institutional settings are needed than for sewer-based sanitation systems. In waterless sanitation systems the logistics and organisational structures needed to collect the sanitation products are similar to solid waste management. Based on an analysis of sanitation and solid waste management in Austria, organisational structure and a financial strategy for implementing a waterless sanitation system are developed. As part of the financial considerations also the possible value chain is described.
+++++++
Financing the Informal Entrepreneur: Recognizing Business Opportunities in Sanitation
van der Wel, A., Bereziat, E., de Bruijne, G., Barendse, J.

Within the framework of the ROSA project a workshop about risks and opportunities of financing informal entrepreneurs in the sanitation sector was organized. The aim was to improve the situation of small businesses in this sector and to bridge the gap between the entrepreneurs and local money institutions. Three examples show that success is possible
and people can sustain their living from working in the sanitation sector. In many cases informal entrepreneurs replace the work of local municipalities actually responsible for these issues. From a business perspective there is a need for better equipment to provide sufficient service, therefore money is needed. From an environmental point of view better disposal mechanisms need to be established as often faeces are dumped just outside the city boundaries. From an health perspective regulations and monitoring are most important.
+++++++
Making a Business of Sanitation: Establishing a World Trade Hub for the Poor
Sim, J., Gröber, K., Greenlee, T.

This article describes a new initiative driven by Jack Sim, Founder of the World Toilet Organization (WTO) in Singapore. The new project, called the BOP Hub, addresses business options within the Base of the Pyramid (BOP), and seeks to be an integrated marketplace for corporate and non-profit organizations active in various sectors of human development.
Sanitation has proven that is can be a profitable business when tailored to the base of the economic pyramid, a term that refers to the four billion poorest people in the world. The hope is that through bottom-up and horizontal information sharing to those people with annual incomes up to and including 3000 USD per capita via the BOP Hub, sanitation will be
able to become more accessible and affordable in terms of delivery, and demand creation. One core aim of the BOP Hub is the distribution of sanitation through a social franchise model: A franchisor trains
franchisees who then deliver sanitation products and services to the BOP customers. This social franchise concept has the potential to transform the sanitation sector into a marketplace in which both entrepreneurs and customers profit from generating investments, jobs, and sustainable self-help in a profitable manner. With this innovative initiative, it is
hoped to reduce the amount of people living within the BOP, which is the majority of the current world's population, and to provide them with affordable access to sanitation.
Bibliographic information
Ecosan Club (ed.) (2010). Sanitation as a business. Sustainable Sanitation Practice (SSP), Issue 5. EcoSan Club, Austria
Filter tags
English
Download