Purpose
Assessing the whole process of Madaba WWTP that could saves cost and lowers carbon footprints
Activities
Assessing the whole process of Madaba WWTP that could saves cost and lowers carbon footprints

• Identify low carbon strategies, including new technology and interventions with carbon benefits.
• Assess the suitability of techniques on carbon/energy requirements to achieve water quality standards, including effects on both the average and variance of concentrations.
• Present scenarios developed and explain the reductions achievable by different measures.
• Provide conclusions and recommendations on the technologies and options available
Images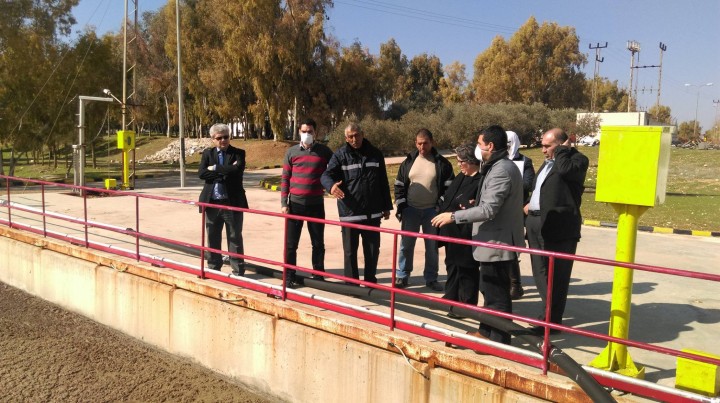 Image: Field visit to Madaba WWTP, Photo credit: WEE
Countries of activity
Location of main activity
Further information
Madaba WWTP works under aerobic process large blowers are provided to power air into the system to stimulate the degradation process, drawing heavily on the electric grid and contributing significantly to the cost of this technology.

The idea is to convert the system into anaerobic digestion where, microorganisms break down organic matter in the absence of oxygen. digesters are designed and engineered to handle specific types of waste streams with high organic content. Operating costs are relatively low, compared to alternative methods.

Methane can be reused on site to power the generators used for the digesters; or, sold to a local power company looking to expand its portfolio to include sources of alternative energy.

Depending on the quality of the feedstock, another valuable byproduct of anaerobic digestion is a nutrient rich fertilizer, which can be used in agriculture as a supplement to chemical alternatives.
Contact information
Eng. Hassan Aboelnga
Login to see the e-mail-adress of the contact person.
Filter tags
Decentralised wastewater treatment (e.g. DEWATS) Fertiliser German government Greywater or wastewater Middle East & Nothern Africa Operation, maintenance and sustainable services Renewable energies and climate change Resource recovery Urban (entire city)
Links