Purpose
To support the development of potential solutions that will make it possible for Omni Ingestor (OI), a road side unit plus extraction solution, to more effectively process trash
Activities
Workshop for Omni Ingestor (OI) pumping systems trash handling
Images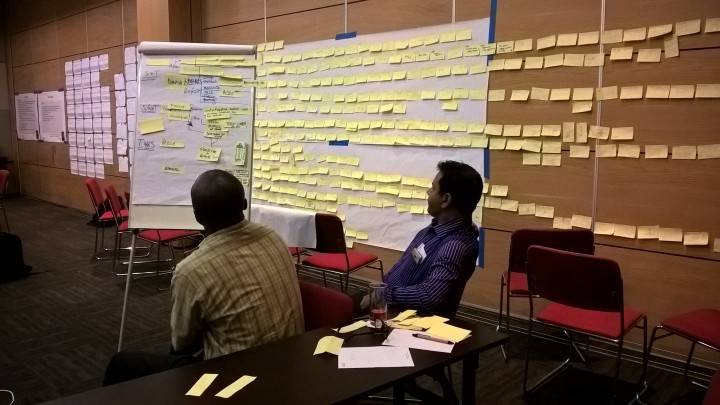 Image: Spoilt for choice – perusing the sorted options for the design of OIs for different duties
Countries of activity
Location of main activity
Objectives
The objective of the project was to assemble a team of experts to investigate the challenges and to develop concepts and mock-ups of possible equipment to overcome these challenges.
Further information
Two workshops, together with relevant field trips were held in Durban, South Africa and Bangalore in India in which technical people with knowledge, experience or interest in designing equipment to empty pit latrines were brought together in order to:

(i) view a variety of pits in different locations (Zambia, Tanzania, Durban and India) to gain a context of the problems associated with the challenge of emptying pits;

(ii) (visit the faecal sludge characterization laboratory at the PRG (Durban) to become familiar with the facilities;

(iii) participate in facilitated workshops to conceptualize and design appropriate mock-ups of equipment for emptying the different types of pit latrine sludge.

These events took place from the 18th to 29th April 2016 (Africa) and the 12th to 19th June 2016 (India).
Filter tags
Bill & Melinda Gates Foundation Emptying and transport (non sewered) Faecal sludge treatment processes Global Practitioners Product design and engineering Sub-Saharan Africa University, education or research institution
Attached files
Links
University of KwaZulu-Natal
Durban
South Africa
---
---
Uploaded by:
Elisabeth von Muench (Elisabeth)