Purpose
Introduce greenhouse gas-reducing technologies to water and wastewater companies in Jordan, Mexico, Peru and Thailand, and thereby improving those companies CO2-balance.
Activities
Climate change is aggravating the challenges that water and wastewater utilities face. At the same time the supply of water and the treatment of used water lead to substantial greenhouse gas emissions. This is partly on account of water losses and higher than necessary energy consumption.

The Water and Wastewater Companies for Climate Mitigation (WaCCliM) project supports utilities in Middle Income Countries in identifying processes and technologies to reduce their energy and carbon footprint. WaCCliM supports utilities on the path towards climate neutrality, while engaging with national governments and the international water and climate community. It supports climate protection efforts in the water sector using a cross-sectoral approach known as the 'urban nexus', which addresses water, energy and food security in an integrated manner.

At the moment, the Deutsche Gesellschaft für Internationale Zusammenarbeit (GIZ) and the International Water Association (IWA) are working together with their partners from Jordan, Mexico, Peru and Thailand to improve the carbon balance of water and wastewater utilities in the four countries and beyond.

WaCCliM has developed the Energy Performance and Carbon Emissions Assessment and Monitoring (ECAM) tool to allow utilities to (1) assess the origin of their GHG emissions and their relative weight and (2) identify potential areas for improvement, in particular in regards to energy savings. The same tool is used to forecast the reduction impact of future measures and monitor the results after their implementation. ECAM is a free and open source tool that has been successfully piloted by utilities in Jordan, Mexico, Peru and Thailand that participate in the WaCCliM project, to achieve dramatic reductions in GHG emissions:

San Francisco del Rincón, Mexico, has achieved almost a 50% reduction of its total GHG emissions compared to the baseline established with ECAM in 2014. This has been achieved through treating more wastewater to reduce methane emissions and improving pumping efficiency. Additional measures have been identified that would lead to a reduction of 65% in total emissions.

Cusco, Peru, has saved 5,300 t CO2 emissions per year, representing 20% of its total carbon emissions. A total GHG reduction potential of 30% has been identified through greater pumping efficiency and wastewater reuse.

Chiang Mai, Thailand, has used ECAM to establish a baseline for municipal wastewater treatment and identify a 12% GHG reduction potential.

Madaba, Jordan joined WaCCliM in 2016 and is using ECAM to assess its carbon footprint to unlock financing for low carbon water and wastewater infrastructure to help meet its GHG reduction potential.

Organisations involved: Deutsche Gesellschaft für Internationale Zusammenarbeit (GIZ), International Water Association (IWA), Water Authority of Jordan (WAJ), Comisión Nacional del Agua (CONAGUA), National Water Commission (CONAGUA), Ministerio de Vivienda, Construcción y Saneamiento (MVCS), Ministry of Housing, Construction and Sanitation (MVCS); Ministry of Natural Resources and Environment (MONRE)
Images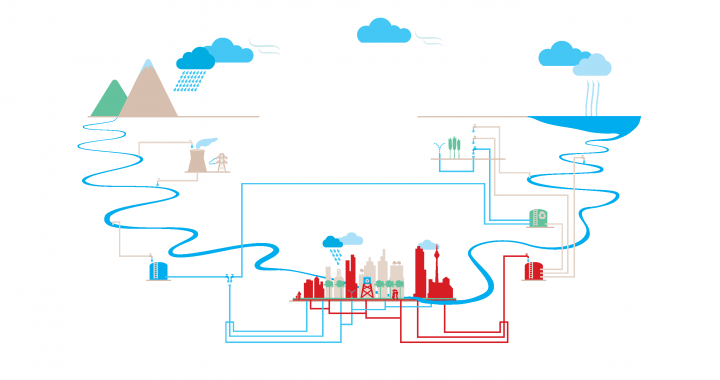 Image: The Urban Water Cycle &copy - IWA
Countries of activity
Location of main activity
Objectives
Establish a robust framework and innovative tools for energy performance and GHG emissions accounting and monitoring that allow water and wastewater utilities to take effective action on mitigating climate change, reducing water pollution and improving health and environmental outcomes.
Further information
WaCCliM is a joint initiative between the Deutsche Gesellschaft für Internationale Zusammenarbeit (GIZ) and the International Water Association (IWA). This project is part of the International Climate Initiative (IKI). The German Federal Ministry for the Environment, Nature Conservation, Building and Nuclear Safety (BMUB) supports this initiative on the basis of a decision adopted by the German Bundestag.
Videos
WaCCliM Video
Filter tags
Asia & Pacific Biogas systems Constructed wetlands Decentralised wastewater treatment (e.g. DEWATS) Europe, Caucasus & Central Asia Faecal sludge treatment processes German government Government-owned entity (not university or research) Greywater or wastewater Latin America & Caribbean Middle East & Nothern Africa Renewable energies and climate change Specific to one or several countries Technology comparisons Treatment of wastewater or greywater Urban (entire city)
Links