The Wastewater Reuse Practice in Botswana
A Challenge for the Development of the Water Sector
---
Published in: 2005
Pages: 8
Publisher:
Proceedings of the BIE annual conference – 19-21 October 2005, Gaborone, Botswana
Author:
Hranova, R. K.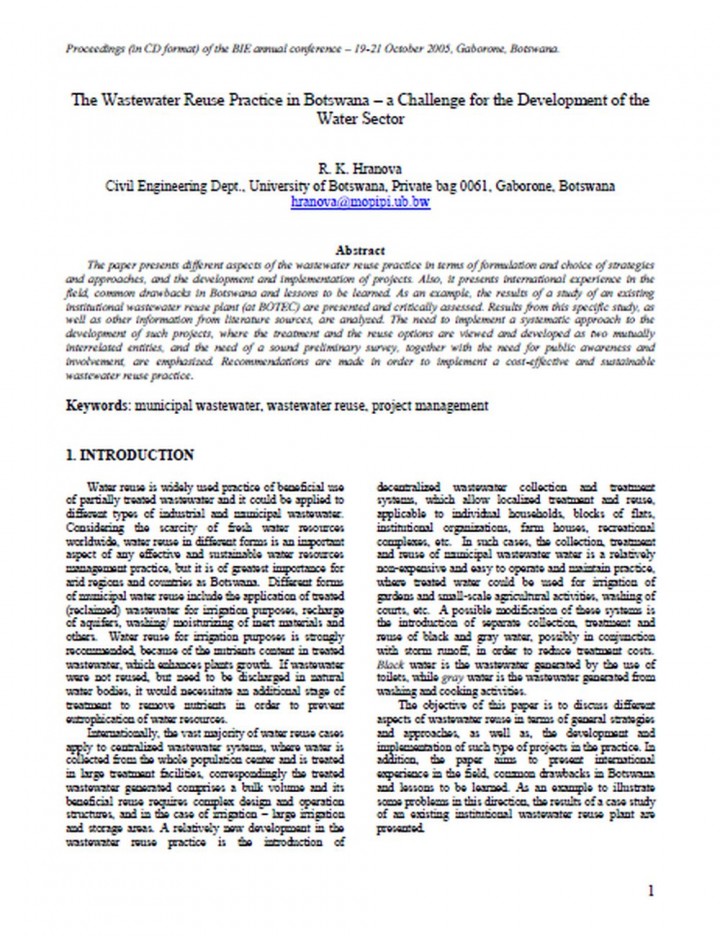 Published in: 2005
Pages: 8
Publisher:
Proceedings of the BIE annual conference – 19-21 October 2005, Gaborone, Botswana
Author:
Hranova, R. K.
---
The Wastewater Reuse Practice in Botswana
A Challenge for the Development of the Water Sector
The paper presents different aspects of the wastewater reuse practice in terms of formulation and choice of strategies and approaches, and the development and implementation of projects. Also, it presents international experience in the field, common drawbacks in Botswana and lessons to be learned. As an example, the results of a study of an existing institutional wastewater reuse plant (at BOTEC) are presented and critically assessed. Results from this specific study, as well as other information from literature sources, are analyzed. The need to implement a systematic approach to the development of such projects, where the treatment and the reuse options are viewed and developed as two mutually interrelated entities, and the need of a sound preliminary survey, together with the need for public awareness and involvement, are emphasized. Recommendations are made in order to implement a cost-effective and sustainable wastewater reuse practice.
---
Bibliographic information
Hranova, R. K. (2005). The Wastewater Reuse Practice in Botswana - A Challenge for the Development of the Water Sector. Proceedings of the BIE annual conference – 19-21 October 2005, Gaborone, Botswana
---
Download
---
---