Linking WASH & Nutrition – A Roadmap towards Better Health
Thematic Discussion Synthesis
---
Published in: 2016
Pages: 15
Publisher:
Sustainable Sanitation Alliance, Germany
Author:
Toetzke, J.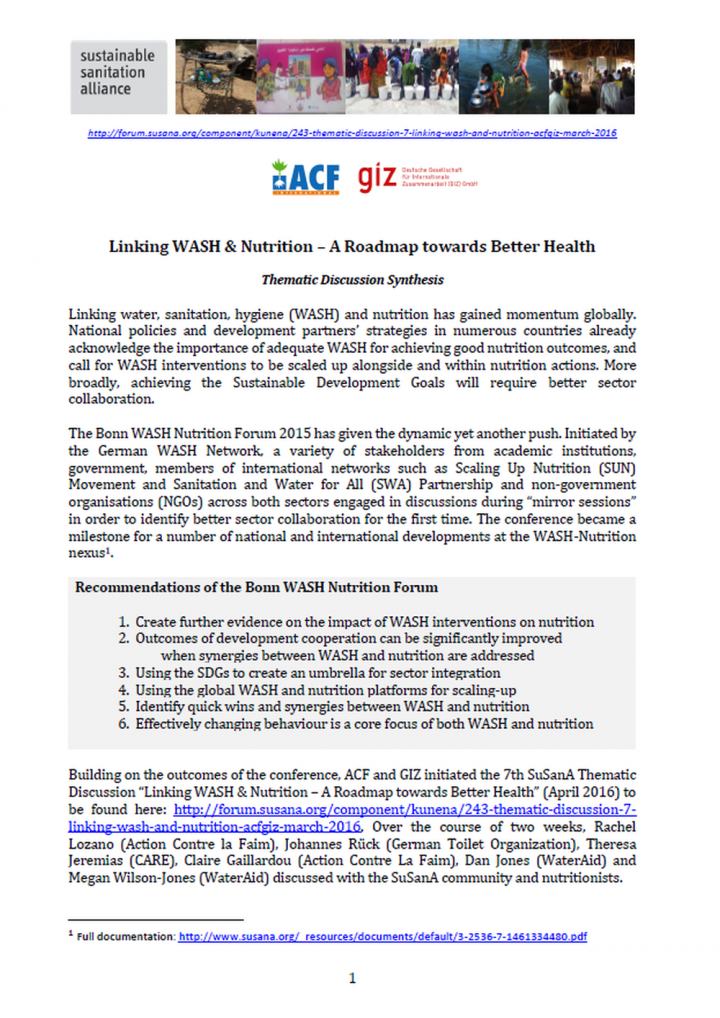 Published in: 2016
Pages: 15
Publisher:
Sustainable Sanitation Alliance, Germany
Author:
Toetzke, J.
---
Linking WASH & Nutrition – A Roadmap towards Better Health
Thematic Discussion Synthesis
Linking water, sanitation, hygiene (WASH) and nutrition has gained momentum globally. National policies and development partners' strategies in numerous countries already acknowledge the importance of adequate WASH for achieving good nutrition outcomes, and call for WASH interventions to be scaled up alongside and within nutrition actions. More broadly, achieving the Sustainable Development Goals will require better sector collaboration.
---
Bibliographic information
Toetzke, J. (2016). Linking WASH & Nutrition – A Roadmap towards Better Health - Thematic Discussion Synthesis. Sustainable Sanitation Alliance, Germany
---
Download
---
---