Sistema de reutilización de orina humana, Esperanza, Argentina (in Spanish)
System appropriate for the reuse of urine, Esperanza, Argentina. Case study of sustainable sanitation projects
---
Published in: 2011
Publisher:
Sustainable Sanitation Alliance (SuSanA)
Author:
Bertaina, L., Buraschi, G., Hock, D.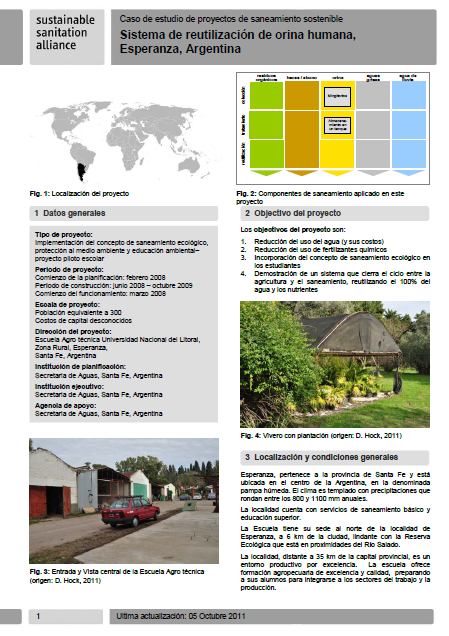 Published in: 2011
Publisher:
Sustainable Sanitation Alliance (SuSanA)
Author:
Bertaina, L., Buraschi, G., Hock, D.
---
Sistema de reutilización de orina humana, Esperanza, Argentina (in Spanish)
System appropriate for the reuse of urine, Esperanza, Argentina. Case study of sustainable sanitation projects
---
Content - Summary
Este estudio de caso se trata de sistema de reutilización de orina humana en Esperanza, Argentina. 300 personas se beneficiaron del proyecto. Tipo de proyecto: Implementación del concepto de saneamiento ecológico, protección al medio ambiente y educación ambiental–proyecto piloto escolar. La Escuela de Agricultura, Ganadería y Granja (EAGG), se sitúa en un área periurbana de Esperanza y cuenta con más de 300 alumnos, 50 docentes y el personal administrativo y de servicios conforman actualmente la comunidad educativa de la Escuela.

El proyecto consiste en colectar la orina en los mingitorios de los sanitarios de varones y conducir el efluente a tanques de almacenamiento para su posterior como fertilizante. La escuela hoy no esta utilizando la orina como fertilizante por malas experiencias hechos en forma de una aplicación incorrecta. Sin embrago queda la idea de realizar el reuso en un futuro pronto. Debido a su alto pH y la concentración, la orina almacenada no debe aplicarse directamente a las plantas. Durante septiembre 2008 y el primer semestre del año de 2009 se tuvieron lugar reuniones con profesores, tutores y estudiantes. En los seminarios también se les dio una introducción al saneamiento ecológico y el uso de la orina como fertilizante, con el fin de ejecutar el proyecto en la escuela.

El costo para la instalación de los dos tanques fue de aproximadamente de US$ 750. Los gastos con respecto a la mano de obra estan desconocidos. La gestión del proyecto se lleva a cabo gracias a la colaboración de los docentes, preceptores y el aporte de un alumno de ingeniería ambiental de la Facultad de Ingeniería y Ciencias Hídricas, que realiza una pasantía ad honorem.

Institución de planificación y ejecutivo: Secretaria de Aguas, Santa Fe, Argentina.
---
Bibliographic information
Bertaina, L., Buraschi, G., Hock, D. (2011). Sistema de reutilización de orina humana, Esperanza, Argentina (in Spanish) - System appropriate for the reuse of urine, Esperanza, Argentina. Case study of sustainable sanitation projects. Sustainable Sanitation Alliance (SuSanA)
---
Download
---
---