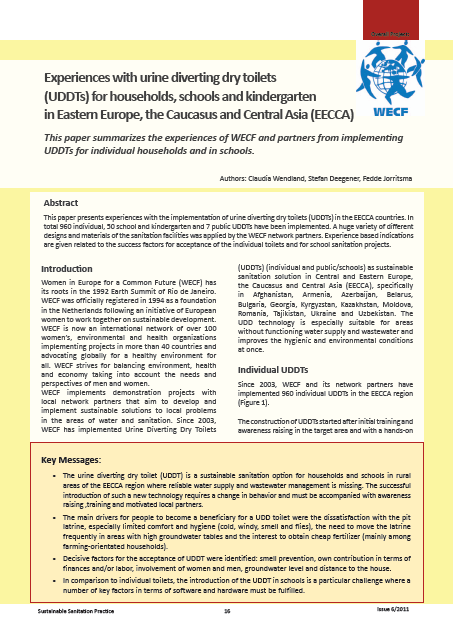 Published in: 2011
Publisher:
Published in EcoSan Club Sustainable Sanitation Practice (SSP) Issue 6, Article 3, pp. 16-22, Ecosan Club Austria
Author:
Wendland, C., Deegener, S., Jorritsma, F.
Uploaded by:
SuSanA secretariat
Partner profile:
common upload
---
4681 Views
74 Downloads
---
Location of library entry
Content - Summary
This paper presents experiences with the implementation of urine diverting dry toilets (UDDTs) in the EECCA countries. In total 960 individual, 50 school and kindergarten and 7 public UDDTs have been implemented. A huge variety of different designs and materials of the sanitation facilities was applied by the WECF network partners. Experience based indications are given related to the success factors for acceptance of the individual toilets and for school sanitation projects.
Bibliographic information
Wendland, C., Deegener, S., Jorritsma, F. (2011). Experiences with urine diverting dry toilets (UDDTs) for households, schools and kindergarten in Eastern Europe, the Caucasus and Central Asia (EECCA). Published in EcoSan Club Sustainable Sanitation Practice (SSP) Issue 6, Article 3, pp. 16-22, Ecosan Club Austria
Filter tags
English Europe, Caucasus & Central Asia Rural Schools Urine diversion dehydration toilets (UDDTs)
Download