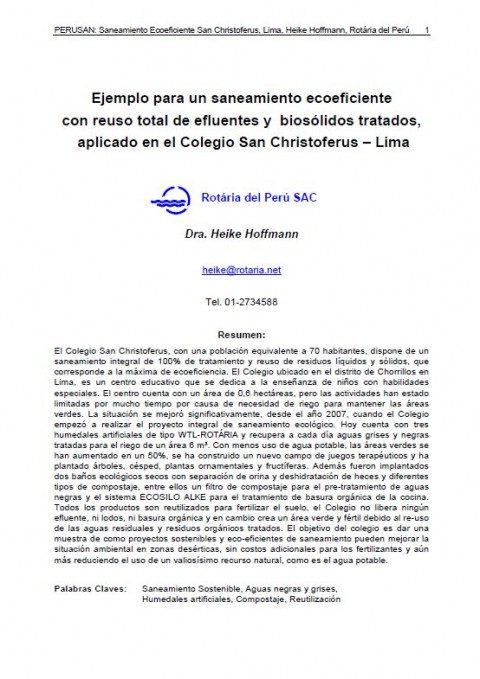 Published in: 2008
Author:
Hoffmann, H.
Uploaded by:
SuSanA secretariat
Partner profile:
common upload
---
4407 Views
69 Downloads
Content - Summary
El Colegio San Christoferus, con una población equivalente a 70 habitantes, dispone de un saneamiento integral de 100% de tratamiento y reuso de residuos líquidos y sólidos, que corresponde a la máxima de ecoeficiencia. El Colegio ubicado en el distrito de Chorrillos en Lima, es un centro educativo que se dedica a la enseñanza de niños con habilidades especiales. El centro cuenta con un área de 0,6 hectáreas, pero las actividades han estado limitadas por mucho tiempo por causa de necesidad de riego para mantener las áreas verdes. La situación se mejoró significativamente, desde el año 2007, cuando el Colegio empezó a realizar el proyecto integral de saneamiento ecológico. Hoy cuenta con tres humedales artificiales de tipo WTL-ROTÁRIA y recupera a cada día aguas grises y negras tratadas para el riego de un área 6 m³. Con menos uso de agua potable, las áreas verdes se han aumentado en un 50%, se ha construido un nuevo campo de juegos terapéuticos y ha plantado árboles, césped, plantas ornamentales y fructíferas. Además fueron implantados dos baños ecológicos secos con separación de orina y deshidratación de heces y diferentes tipos de compostaje, entre ellos un filtro de compostaje para el pre-tratamiento de aguas negras y el sistema ECOSILO ALKE para el tratamiento de basura orgánica de la cocina. Todos los productos son reutilizados para fertilizar el suelo, el Colegio no libera ningún efluente, ni lodos, ni basura orgánica y en cambio crea un área verde y fértil debido al re-uso de las aguas residuales y residuos orgánicos tratados. El objetivo del colegio es dar una muestra de como proyectos sostenibles y eco-eficientes de saneamiento pueden mejorar la situación ambiental en zonas desérticas, sin costos adicionales para los fertilizantes y aún más reduciendo el uso de un valiosísimo recurso natural, como es el agua potable.
Bibliographic information
Hoffmann, H. (2008). Ejemplo para un saneamiento sostenible con reuso total de efluentes y biosolidos tratados, aplicado en el Colegio San Christoferus – Lima (in Spanish) - Example for a sustainable sanitation with reuse of effluents and treated biosolids, applied at the Colegio San Christoferus – Lima - Conferencia Peruano de Saneamiento, PERUSAN, Perú.
Filter tags
Constructed wetlands Latin America & Caribbean Practitioners Spanish
Download