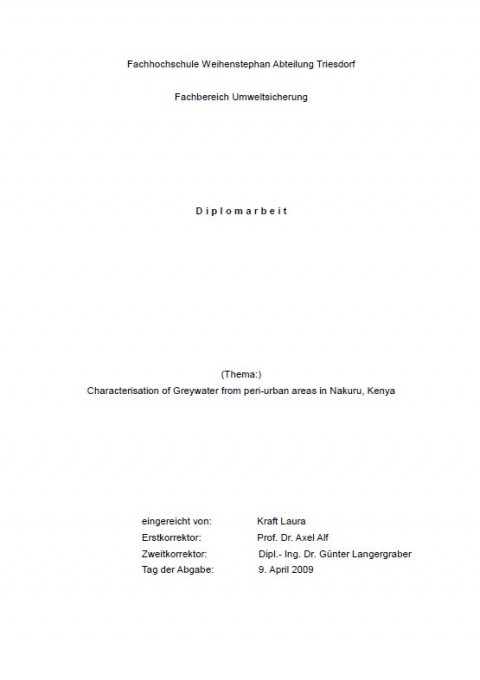 Published in: 2009
Author:
Kraft, L.
Uploaded by:
SuSanA secretariat
Partner profile:
common upload
---
3339 Views
24 Downloads
---
Location of library entry
Content - Summary
Kenia ist wie viele andere afrikanische Länder mit ernsthaften Problemen in den Bereichen Trinkwasserversorgung, Abwasserentsorgung und Ernährungssicherheit konfrontiert. Aufgrund des hohen Bevölkerungswachstums und der steigenden Nachfrage nach Wasser werden dringend alternative Wasserressourcen benötigt. Das ROSA (Resource Oriented Sanitation for peri-urban areas of Africa) Konzept empfiehlt daher, Abwasser zur Bewässerung und Düngung in der Landwirtschaft zu nutzen. Um eine effektive Behandlung und Wiederverwendung zu gewährleisten wird das Abwasser in verschieden Ströme getrennt (Urin, Fäkalien und Grauwasser).
Bibliographic information
Kraft, L. (2009). Characterisation of greywater from peri-urban areas in Nakuru, Kenya - Diploma thesis, University of Applied Sciences Weihenstefan.
Filter tags
Case studies in other formats Constructed wetlands English Peri-urban Sub-Saharan Africa
Download