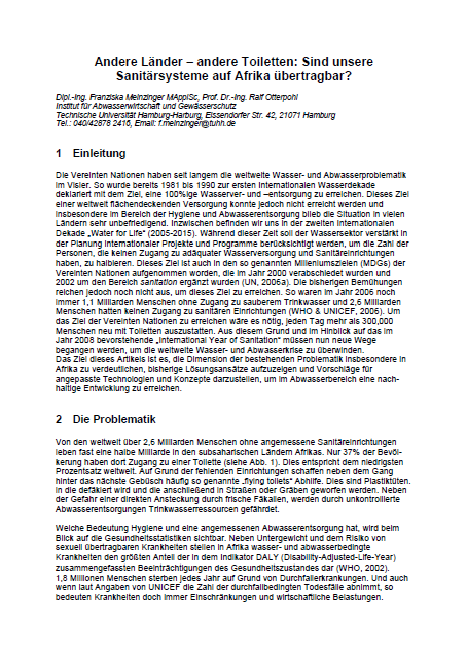 Published in: 2007
Publisher:
Institut fuer Abwasserwirtschaft und Gewasserschutz, TUHH, Hamburg-Harburg, Germany
Author:
Meinzinger, F., Otterpohl, R.
Uploaded by:
SuSanA secretariat
Partner profile:
Hamburg University of Technology, Institute of Wastewater Management and Water Protection
---
3749 Views
20 Downloads
Content - Summary
Die Vereinten Nationen haben seit langem die weltweite Wasser- und Abwasserproblematik im Visier. So wurde bereits 1981 bis 1990 zur ersten Internationalen Wasserdekade deklariert mit dem Ziel, eine 100%ige Wasserver- und –entsorgung zu erreichen. Dieses Ziel einer weltweit flächendeckenden Versorgung konnte jedoch nicht erreicht werden und insbesondere im Bereich der Hygiene und Abwasserentsorgung blieb die Situation in vielen Ländern sehr unbefriedigend. Inzwischen befinden wir uns in der zweiten Internationalen Dekade "Water for Life" (2005-2015). Während dieser Zeit soll der Wassersektor verstärkt in der Planung internationaler Projekte und Programme berücksichtigt werden, um die Zahl der Personen, die keinen Zugang zu adäquater Wasserversorgung und Sanitäreinrichtungen haben, zu halbieren. Dieses Ziel ist auch in den so genannten Milleniumszielen (MDGs) der Vereinten Nationen aufgenommen worden, die im Jahr 2000 verabschiedet wurden und 2002 um den Bereich sanitation ergänzt wurden (UN, 2006a). Die bish rigen Bemühungen reichen jedoch noch nicht aus, um dieses Ziel zu erreichen. So waren im Jahr 2006 noch immer 1,1 Milliarden Menschen ohne Zugang zu sauberem Trinkwasser und 2,6 Milliarden Menschen hatten keinen Zugang zu sanitären Einrichtungen (WHO & UNICEF, 2006). Um das Ziel der Vereinten Nationen zu erreichen wäre es nötig, jeden Tag mehr als 300,000 Menschen neu mit Toiletten auszustatten. Aus diesem Grund und im Hinblick auf das im Jahr 2008 bevorstehende "International Year of Sanitation" müssen nun neue Wege begangen werden, um die weltweite Wasser- und Abwasserkrise zu überwinden.
Das Ziel dieses Artikels ist es, die Dimension der bestehenden Problematik insbesondere in Afrika zu verdeutlichen, bisherige Lösungsansätze aufzuzeigen und Vorschläge für angepasste Technologien und Konzepte darzustellen, um im Abwasserbereich eine nachhaltige Entwicklung zu erreichen.
Bibliographic information
Meinzinger, F., Otterpohl, R. (2007). Andere Laender – andere Toiletten. Sind unsere Sanitaersysteme auf Afrika uebertragbar? (in German) - Other countries - other toilets. Are our sanitation systems applicable in Africa?. Institut fuer Abwasserwirtschaft und Gewasserschutz, TUHH, Hamburg-Harburg, Germany
Filter tags
German Sub-Saharan Africa
Download