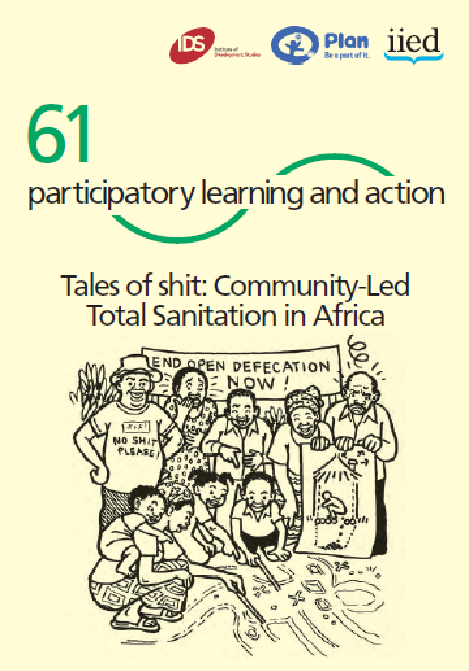 Published in: 2009
Pages: 238
Publisher:
iied, IDS, Plan, ISBN: 978-1-84369-782-4
Author:
Ashley, H. et al.
Uploaded by:
SuSanA secretariat
Partner profile:
common upload
---
4364 Views
22 Downloads
Content - Summary
Where do you shit? In developing countries, the answer to this question may determine whether you live or die. Around 2.6 billion people do not have access to a toilet. Instead, they practice open defecation. The consequences are dire: shit carries disease and is a major killer. Community-Led Total Sanitation (CLTS) is perhaps one of the fastest growing participatory methods and has shown promising results where previous rural sanitation programmes have failed.

Using simple Participatory Rural Appraisal (PRA) visual tools, communities confront the crude reality about mass open defecation and its negative effects on the entire community. CLTS enables communities to analyse and
learn from their hygiene habits and practices to create collective action plans for totally sanitising their habitat – without depending on external subsidies.

This issue provides examples from East and Southern, as well as West Africa, and allows practitioners to share their experiences of implementing CLTS in different contexts with researchers
and policy makers – and to stimulate debate about how they can engage in
development processes, specifically in the sanitation sector.
Bibliographic information
Ashley, H. et al. (2009). Tales of Shit: Community-Led Total Sanitation in Africa - Participatory Learning and Action Notes (PLA issue 61). iied, IDS, Plan, ISBN: 978-1-84369-782-4
Filter tags
English Rural Sub-Saharan Africa
Download