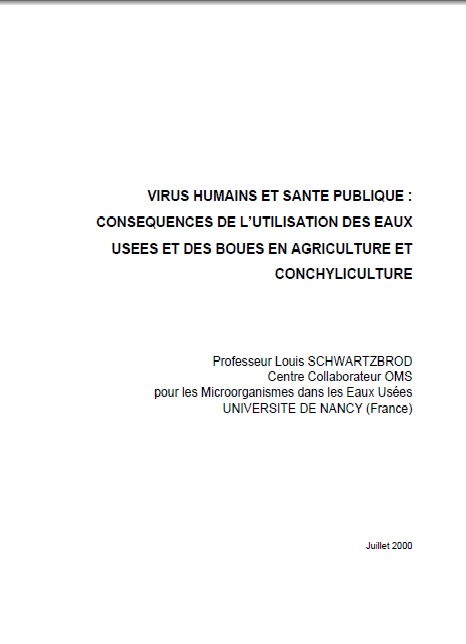 Published in: 2000
Author:
Schwartzbrod, L.
Uploaded by:
SuSanA secretariat
Partner profile:
common upload
---
3968 Views
14 Downloads
Content - Summary
Les virus abondent dans le milieu aquatique aussi bien dans les eaux douces que marines. Cependant, les virus du milieu hydrique présentant un intérêt direct en santé humaine et capables de provoquer des infections chez l'homme sont ceux qui sont excrétés dans les selles d'individus infectés. Plus de 140 virus pathogènes peuvent être éliminés dans les fèces humaines. Regroupés sous le nom de virus entériques, ils appartiennent à plusieurs familles et genres. Des bactériophages, non pathogènes pour l'homme mais susceptibles de constituer des indicateurs de contamination virale, sont aussi excrétés dans les selles.
Bibliographic information
Schwartzbrod, L. (2000). Virus humains et santé publique. Conséquences de l´utilisation des eaux usées et des boues en agriculture et conchyliculture (in French) - Human viruses and public health. Consequences of waste water and sludge use in agriculture and in shellfish aquaculture.
Filter tags
Europe & Central Asia Faecal sludge treatment processes French
Download