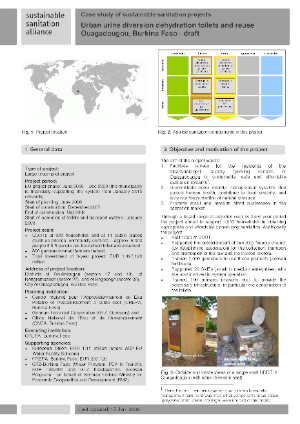 Published in: 2011
Publisher:
Sustainable Sanitation Alliance (SuSanA)
Author:
Fall, A., Coulibaly, C.
Uploaded by:
SuSanA secretariat
Partner profile:
common upload
---
12491 Views
464 Downloads
---
Location of library entry
Content - Summary
This case study is about a large urban pilot project carried on from June 2006 until December 2009 in in three districts of Ouagadougou, namely Boulmiougou (sectors 17 and 19), Nongremasson (sector 27), and of Bogodogo (sector 30), in Burkina Faso. In total, 922 households and 11 public UDDTs (e.g. in prisons and community center) were constructed. The case study brings information on the project implementation regarding its objectives, location and background and discusses the technologies applied (user interface, collection and treatment of urine and faeces), design (also for the superstructure), reuse, further components of the project, costs, operation and maintenance, practical experiences and lessons learnt, and sustainability assessment and long-term impacts.

This was a large EU-funded project, under ACP-EU Water Facility Scheme, with a minor financial contribution by GTZ Ecosan Program, on behalf of the German Ministry for Economic Cooperation and Development (BMZ). The project was by executed by CREPA, a local NGO in Burkina Faso and adopted a strategy of close cooperation with communal authorities, community-based organisations in peri-urban areas and the local private sector.

The physical infrastructure of the project consisted of household double vault UDDTs, four treatment sites (called eco-stations and run by separate associations). Attempts were made to use adobe and other local material in the construction of the vaults, but they failed due to the collapse of the latrines after a flooding. Also, an alternative user interface, called "box toilet", was applied in informal settlements due to space constraints. The logistical infrastructure consisted of collection, transport and delivery of urine, dried faeces, sanitised urine and dried faeces as well as peri-urban gardens and fields were sanitised urine and faeces were used. Furthermore, the project also supported the establishment of two "supply chains" by supporting small to medium size enterprises, training gardeners for reuse.
Bibliographic information
Fall, A., Coulibaly, C. (2011). Urban urine diversion dehydration toilets and reuse Ouagadougou, Burkina Faso - Draft. Case study of sustainable sanitation projects. Sustainable Sanitation Alliance (SuSanA)
Filter tags
Case studies in SuSanA template English Sub-Saharan Africa Urban (entire city) Urine Urine diversion dehydration toilets (UDDTs)
Download