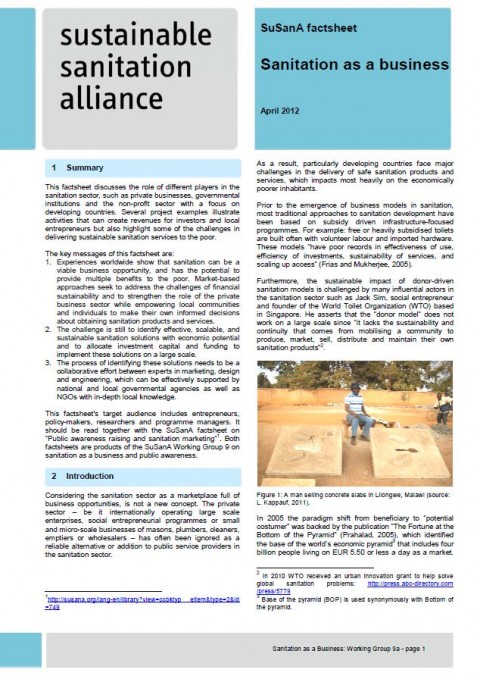 Published in: 2012
Publisher:
Sustainable Sanitation Alliance (SuSanA)
Author:
Gröber, K. et al.
Uploaded by:
SuSanA secretariat
Partner profile:
common upload
---
11142 Views
536 Downloads
Content - Summary
This factsheet discusses the role of different players in the sanitation sector, such as private businesses, governmental institutions and the non-profit sector with a focus on developing countries. Several project examples illustrate activities that can create revenues for investors and local entrepreneurs but also highlight some of the challenges in delivering sustainable sanitation services to the poor.

The key messages of this factsheet are:
1. Experiences worldwide show that sanitation can be a viable business opportunity, and has the potential to provide multiple benefits to the poor. Market-based approaches seek to address the challenges of financial
sustainability and to strengthen the role of the private business sector while empowering local communities and individuals to make their own informed decisions about obtaining sanitation products and services.

2. The challenge is still to identify effective, scalable, and
sustainable sanitation solutions with economic potential and to allocate investment capital and funding to implement these solutions on a large scale.

3. The process of identifying these solutions needs to be a collaborative effort between experts in marketing, design and engineering, which can be effectively supported by national and local governmental agencies as well as NGOs with in-depth local knowledge.

This factsheet's target audience includes entrepreneurs, policy-makers, researchers and programme managers. It should be read together with the SuSanA factsheet on "Public awareness raising and sanitation marketing". Both factsheets are products of the SuSanA Working Group 9 on sanitation as a business and public awareness.
Bibliographic information
Gröber, K. et al. (2012). Sanitation as a business - Factsheet of Working Group 9a. Sustainable Sanitation Alliance (SuSanA)
Filter tags
English Factsheets and policy briefs Market development (WG2) Publications by SuSanA Publications by SuSanA
Download