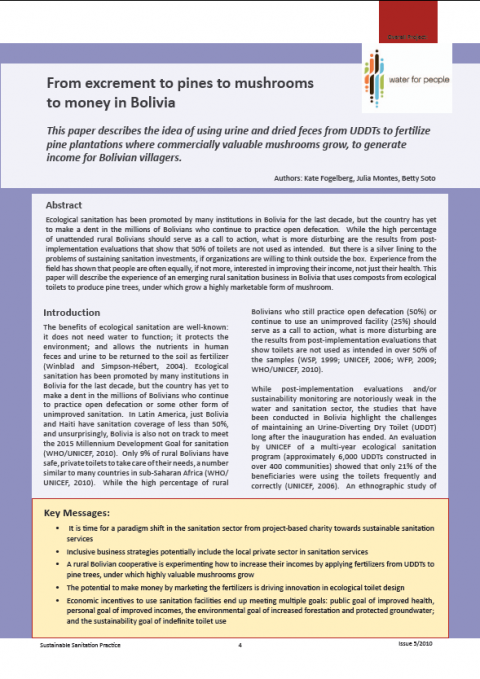 Published in: 2010
Publisher:
Published in SSP Issue Vol 5 "Sanitation as a Business", Ecosan Club Austria
Author:
Fogelberg, K., Montes, J., Soto, B.
Uploaded by:
SuSanA secretariat
Partner profile:
common upload
---
4359 Views
20 Downloads
---
Location of library entry
Content - Summary
This paper describes the idea of using urine and dried feces from UDDTs to fertilize pine plantations where commercially valuable mushrooms grow, to generate income for Bolivian villagers.

Ecological sanitation has been promoted by many institutions in Bolivia for the last decade, but the country has yet to make a dent in the millions of Bolivians who continue to practice open defecation. While the high percentage of unattended rural Bolivians should serve as a call to action, what is more disturbing are the results from postimplementation evaluations that show that 50% of toilets are not used as intended. But there is a silver lining to the problems of sustaining sanitation investments, if organizations are willing to think outside the box. Experience from the field has shown that people are often equally, if not more, interested in improving their income, not just their health. This paper will describe the experience of an emerging rural sanitation business in Bolivia that uses composts from ecological toilets to produce pine trees, under which grow a highly marketable form of mushroom.
Bibliographic information
Fogelberg, K., Montes, J., Soto, B. (2010). From excrement to pines to mushrooms to money in Bolivia. Published in SSP Issue Vol 5 "Sanitation as a Business", Ecosan Club Austria
Filter tags
English Faeces or faecal sludge Latin America & Caribbean Rural Urine Urine diversion dehydration toilets (UDDTs)
Download