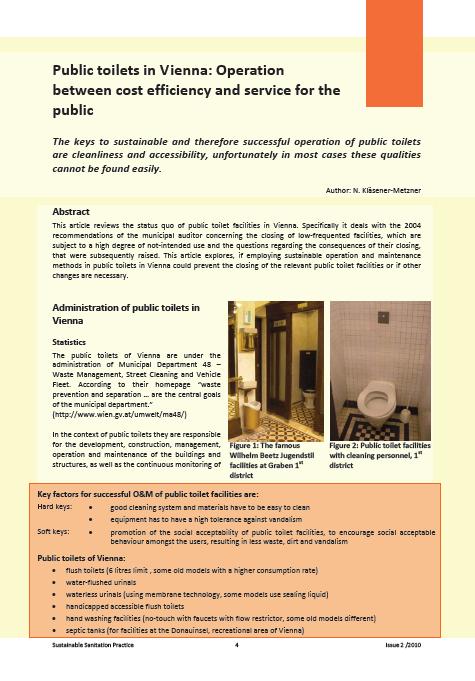 Published in: 2010
Publisher:
Published in EcoSan Club Sustainable Sanitation Practice Issue 2, pp. 4-9
Author:
Klaesener-Metzner, N.
Uploaded by:
SuSanA secretariat
Partner profile:
common upload
---
4190 Views
42 Downloads
Content - Summary
The keys to sustainable and therefore successful operation of public toilets are cleanliness and accessibility, unfortunately in most cases these qualities cannot be found easily.

This article reviews the status quo of public toilet facilities in Vienna. Specifically it deals with the 2004 recommendations of the municipal auditor concerning the closing of low?frequented facilities, which are subject to a high degree of not?intended use and the questions regarding the consequences of their closing, that were subsequently raised. This article explores, if employing sustainable operation and maintenance methods in public toilets in Vienna could prevent the closing of the relevant public toilet facilities or if other changes are necessary.
Additional information
Please visit the the SSP Journal Homepage http://www.ecosan.at/ssp
Bibliographic information
Klaesener-Metzner, N. (2010). Public toilets in Vienna - Operation between cost efficiency and service for the public. Published in EcoSan Club Sustainable Sanitation Practice Issue 2, pp. 4-9
Filter tags
English Europe, Caucasus & Central Asia Urban (entire city)
Download