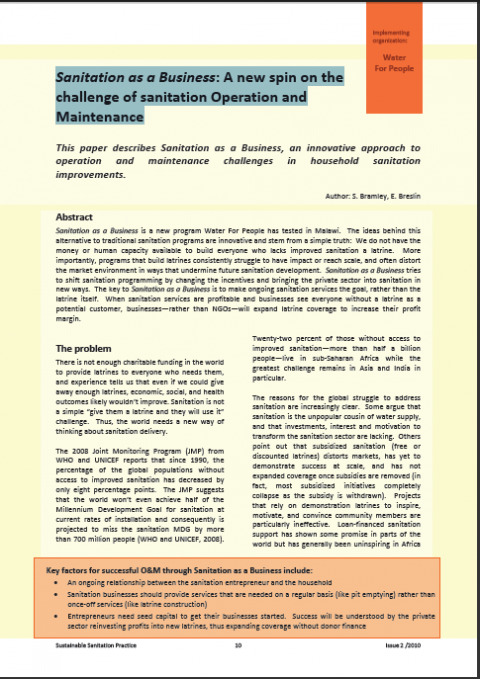 Published in: 2010
Publisher:
Sustainable Sanitation Practice (SSP), Issue 2, Ecosan Club Austria
Author:
Bramley, S., Breslin, E.
Uploaded by:
SuSanA secretariat
Partner profile:
common upload
---
4887 Views
48 Downloads
---
Location of library entry
Content - Summary
This paper describes Sanitation as a Business, an innovative approach to operation and maintenance challenges in household sanitation improvements in Malawi. The ideas behind this alternative to traditional sanitation programs are innovative and stem from a simple truth: We do not have the money or human capacity available to build everyone who lacks improved sanitation a latrine. More importantly, programs that build latrines consistently struggle to have impact or reach scale, and often distort the market environment in ways that undermine future sanitation development. Sanitation as a Business tries to shift sanitation programming by changing the incentives and bringing the private sector into sanitation in new ways. The key to Sanitation as a Business is to make ongoing sanitation services the goal, rather than the latrine itself. When sanitation services are profitable and businesses see everyone without a latrine as a potential customer, businesses — rather than NGOs — will expand latrine coverage to increase their profit margin.
Bibliographic information
Bramley, S., Breslin, E. (2010). Sanitation as a Business: A new spin on the challenge of sanitation operation and maintenance. Sustainable Sanitation Practice (SSP), Issue 2, Ecosan Club Austria
Filter tags
English Sub-Saharan Africa
Download