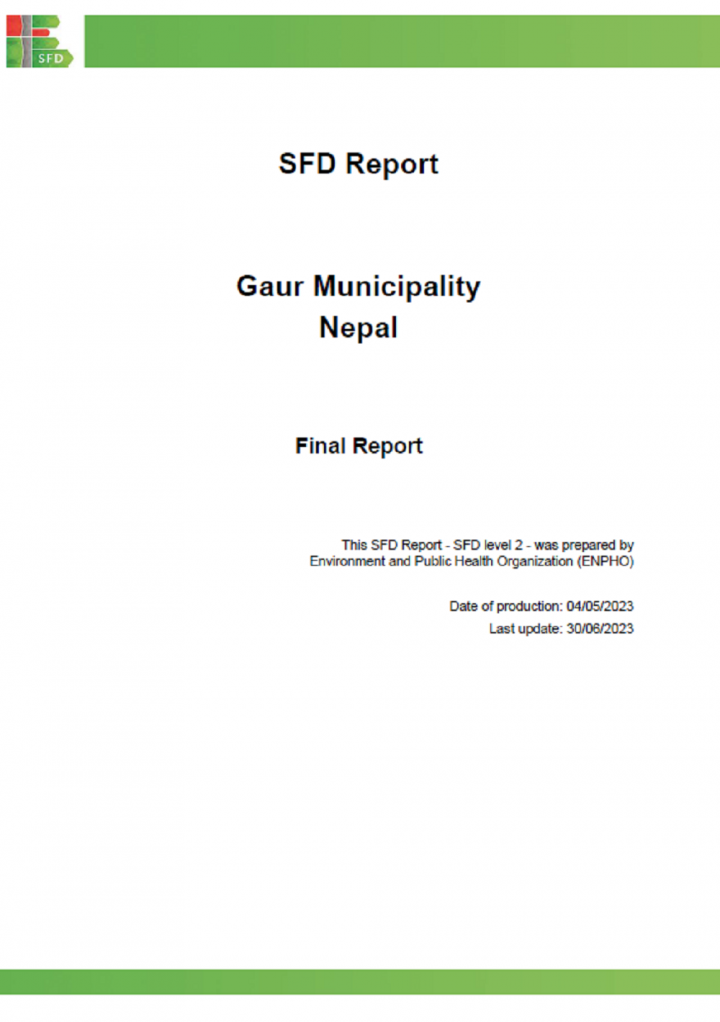 Published in: 2023
Pages: 40
Publisher:
ENPHO
Author:
ENPHO
Uploaded by:
SuSanA Admin
Partner profile:
common upload
---
76 Views
7 Downloads
Gaur Municipality is in Nepal's southern Terai area. The municipality was formed in April 1992 by merging Gaur, Tikuliya, Purenywa, Sirshiya and Swagadha Village Development Committees (VDCs). The municipality is divided into nine political ward boundaries. According to the census 2021, the municipality has a total population of 39,846 and there are 7,235 households with an annual growth rate of 1.4% per annum.

Despite the municipality being declared as ODF zone, only 95% of the population have access to basic sanitation facilities.
Even though direct discharge of wastewater and sewage into water bodies or public places is against the law, 0.5% of population's excreta are directly disposed into storm water drains. The excreta from 2.0% and 31.4% of population are contained in septic tanks and fully lined tanks, respectively. The excreta from 4.7% and 56.6% of the population are collected in lined tanks with impermeable walls and an open bottom, and lined pits with semi-permeable walls and open bottom.

Thus, overall, the SFD graphic shows that 37% of the excreta generated are safely managed while 63% of the excreta generated are not. The safely managed percentage of faecal Sludge (FS) generated by 37% of the population is temporary until the tanks and pits become full and FS from the containment is emptied.
Bibliographic information
ENPHO (2023). SFD (level 2) Report - Gaur Municipality, Nepal. ENPHO
Filter tags
English Politicians and local decision makers Practitioners SFD Report South Asia
Download