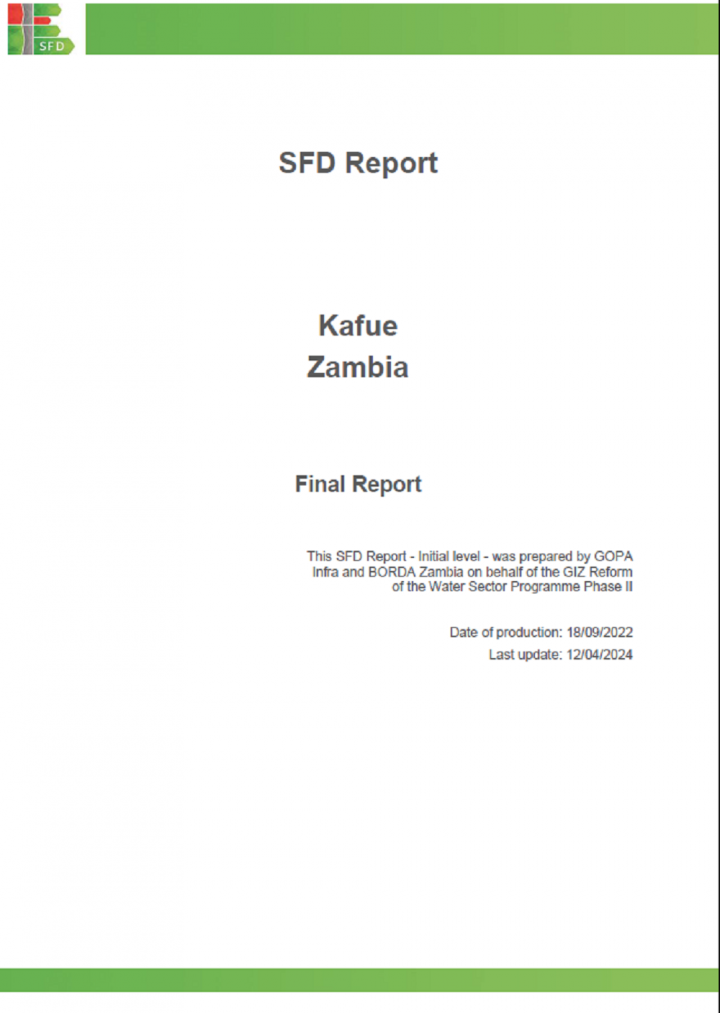 Published in: 2023
Pages: 42
Publisher:
GOPA Infra and BORDA Zambia
Author:
GOPA Infra and BORDA Zambia
Uploaded by:
SuSanA Admin
Partner profile:
Deutsche Gesellschaft für Internationale Zusammenarbeit (GIZ) GmbH
---
387 Views
18 Downloads
Kafue District is one the six districts serviced by LWSC and Kafue Town, the area of interest in this study, is in this district. The town is located about 45 km south of Lusaka City, the nation's capital. It is located on the northern bank of the Kafue River, whose water is the major source of water supply for Chilanga District, Lusaka City and Kafue Town itself. The population of Kafue Town for 2021 was about 92,391 (MoH, 2021). According to Zambia Statistical Agency, the population projection for the district for the same year (i.e., 2021) was about 346,589 from the 244,628 in 2011 implying that the town contributes about 26.7% of the district's population.

Kafue Town currently employs three sanitation options which include: onsite sanitation, offsite sanitation and Open Defecation (OD). In terms of coverage for the three sanitation options, offsite sanitation is estimated at 38%, onsite sanitation at about 61%, while OD accounts for about 1%.

Overall, the SFD graphic shows that 41% of the population has their excreta unsafely managed while 59% has their excreta safely managed. However, around half (24%) of the safely managed sanitation is from the population using septic tanks that have not been emptied. This is a temporary situation as when these tanks become full, they will require emptying. If they are not emptied, they will overflow causing a significant risk to public health.
Bibliographic information
GOPA Infra and BORDA Zambia (2023). SFD (Initial) Report - Kafue, Zambia. GOPA Infra and BORDA Zambia
Filter tags
English Politicians and local decision makers Practitioners SFD Report Sub-Saharan Africa
Download