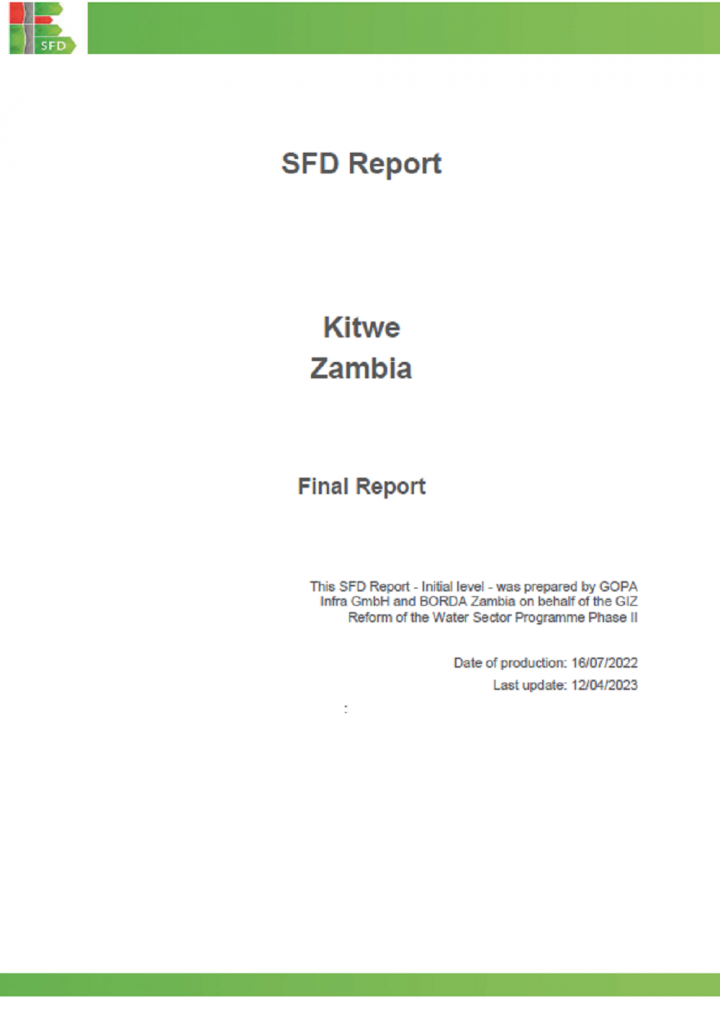 Published in: 2023
Pages: 39
Publisher:
GOPA Infra and BORDA Zambia
Author:
GOPA Infra and BORDA Zambia
Uploaded by:
SuSanA Admin
Partner profile:
Deutsche Gesellschaft für Internationale Zusammenarbeit (GIZ) GmbH
---
339 Views
13 Downloads
Kitwe is one of the major mining cities in Zambia. The city is on the central part of the Copperbelt Province and is the third largest city in Zambia after the Capital Lusaka and the Provincial Capital Ndola. The city covers an estimated 815.76 km2. Demographically, it is also the second most populated city after Lusaka. According to the 2010 census, Kitwe had a population of 517,543 with a projected annual growth rate of 3.2 percent. In 2021, the projected population of the city was at 757,530 with a population density of approximately 928.61 people/ km2.

There is almost an equal proportion of people in the city using onsite and offsite sanitation systems. The population on offsite sanitation are connected to the sewer network managed by Nkana Water Supply and Sanitation Company (NWSC) which currently covers about 56% of the population. The sewer network is not in a good state to convey all the collected wastewater to its designated treatment plants. Only about 28% of the city population has its sewage or wastewater reaching the treatment facilities out of which only 15% is said to be safely treated.

Overall, the SFD graphic shows that 62% of the population has their excreta unsafely managed while 38% has their excreta safely managed.
Bibliographic information
GOPA Infra and BORDA Zambia (2023). SFD (Initial) Report - Kitwe, Zambia. GOPA Infra and BORDA Zambia
Filter tags
English Politicians and local decision makers Practitioners SFD Report Sub-Saharan Africa
Download