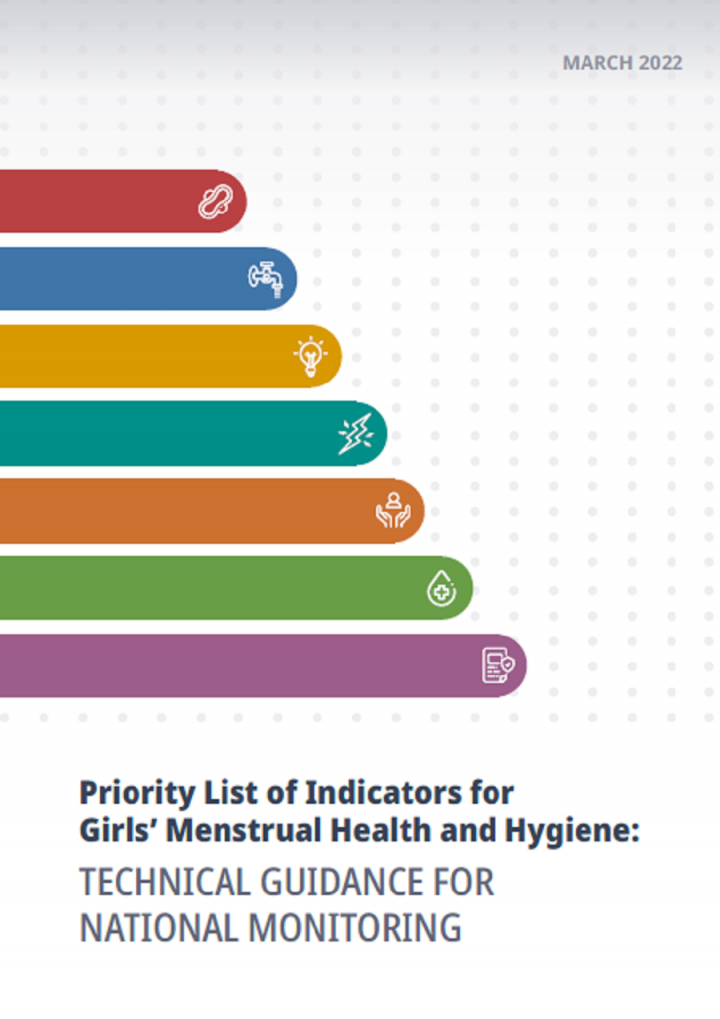 Published in: 2022
Pages: 44
Publisher:
Columbia University New York
Author:
Global MHH Monitoring Group
Uploaded by:
SuSanA Admin
Partner profile:
common upload
---
861 Views
90 Downloads
There is growing global recognition of menstrual health and hygiene (MHH) as an
important health, education, rights, and gender equality issue. As efforts to support
MHH gain momentum globally, the lack of adequate validated indicators with related
measures is a critical barrier to progress. At national level, the absence of standardized
indicators and related measures limits understanding MHH circumstances across
populations and over time. It also impedes the evaluation of policies and programs
designed to change them.

A lack of standardized indicators curtails efforts to set and assess progress against
targets that support MHH, unify approaches, and hold governments and service
providers to account. To monitor the main domains of MHH, indicators and measures
most needed are those aligned to key sectors, including Health [sexual and reproductive
health (SRH) and psychosocial health], Education, Gender, and Water, Sanitation, and
Hygiene (WASH). With the exception of recent efforts by the The WHO/UNICEF Joint
Monitoring Programme for Water Supply, Sanitation and Hygiene (JMP) to include MHH
in WASH monitoring, standardized MHH-related indicators have yet to be incorporated
into these key sectoral areas for national level monitoring in most countries, despite
the potential influence of menstruation on the respective sectoral outcomes, including
their contribution to reaching certain Sustainable Development Goal (SDG) targets.

To support countries to monitor progress on MHH for adolescent girls in and out of
school, a global collaboration of MHH experts worked together with key stakeholders
and leaders from four exemplar countries to develop a short list of priority indicators
(the short list). These indicators monitor MHH across priority domains and are intended
to enable comparability across countries and over time.
Bibliographic information
Global MHH Monitoring Group (2022). Priority List of Indicators for Girls' Menstrual Health and Hygiene: TECHNICAL GUIDANCE FOR NATIONAL MONITORING. Columbia University New York
Filter tags
East Asia & Pacific English Europe & Central Asia Latin America & Caribbean Middle East & North Africa North America Sub-Saharan Africa
Download