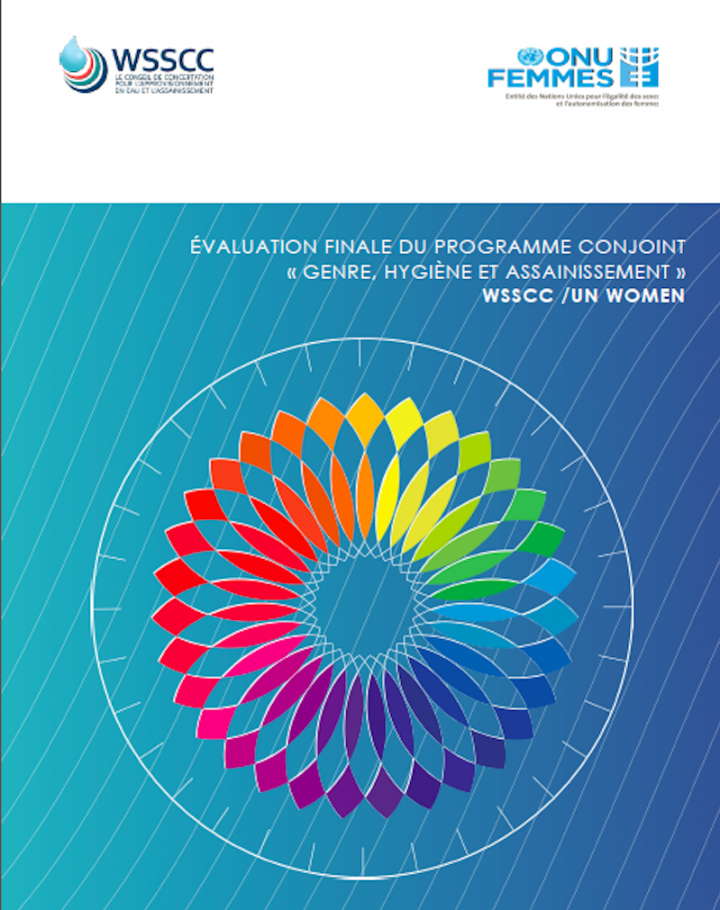 Published in: 2018
Pages: 139
Publisher:
WSSCC
Author:
WSSCC
Uploaded by:
Elke Johanna de Buhr
Partner profile:
Water Access and Sanitation Collaborative Council
---
1201 Views
30 Downloads
From 2014 to 2018 the Water Supply and Sanitation Collaborative Council (WSSCC) and UN Women implemented the Joint Programme on Gender, Hygiene and Sanitation. The objective of the programme was to support governments with the design of inclusive and evidence-based policies in the water and sanitation sector with special attention to the needs of women and girls. The programme used Menstrual Hygiene Management (MHM), a traditionally taboo subject, as an entry point to positively influence policies and practices. The programme was implemented in Cameroon, Niger and Senegal and more broadly in the ECOWAS region.

The final independent evaluation found that the program met its objectives, the evaluation revealed the sanitation and menstrual hygiene needs of women and girls in Cameroon, Niger and Senegal were better reflected in national policies at the end of the programme. It concluded that the Joint Programme was effective, having contributed to greater knowledge on MHM. It also successfully advocated for better gender mainstreaming in national policies in the Water, Sanitation and Hygiene (WASH), education, health and environment sectors, as well as on behavioral change on menstrual hygiene management practices as a result of MHM labs run by practitioners and professionals trained through the programme.

As per its efficiency, the final independent evaluation noted that the Joint Programme was efficiently implemented with a budget of US $ 2.65 million spread from 2014 to 2018, it achieved results in policy influencing, capacity building, applied research and inter-sectoral collaboration. Its sustainability is evidenced by a number of government initiatives in the area of trainings, the review of the design of facilities and the increase of budgets to reflect changes in the infrastructure as well as in the planning and delivery of WASH services.
Additional information
For further information, please contact: Elke de Buhr (elkejohannad@unops.org)
Bibliographic information
WSSCC (2018). WSSCC/UN Women Joint Programme Evaluation on Gender, Hygiene and Sanitation from 2014 to 2018 & Response. WSSCC
Filter tags
English French Gender equality Menstrual Health and Hygiene (MHH) Sub-Saharan Africa Women's rights & representation and empowerment
Download